Ythil Charles Lewis Bromley was born on 28th April 1904 at Brentford, Middlesex. He was a Master Mariner.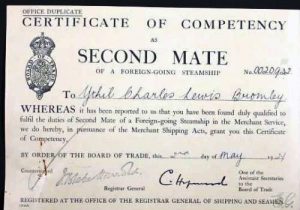 He arrived in Singapore in 1938 as a Chief Officer aboard RFA Francol.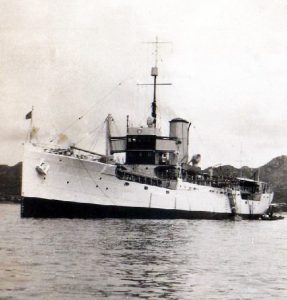 He was captured by the Japanese and held at Pekan Baroe (Pakan Baroe / Pekanbaru). As a result, he does not strictly 'belong' to this website but we are pleased to memorialize any of the prisoners held in Sumatra during WW2.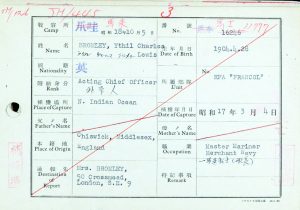 Bromley died in captivity of beri beri on 3rd August 1945 aged 41. His wife was Vera Marjorie nee Cottee of Mottingham, Kent.
The records of the RFA show that on 3rd March 1942 while on passage to Fremantle, in position 11.00S 109.00E near Tjilatjap, 300 miles south of Java, the Francol was in a convoy of ships (including the Royal Australian Navy sloop HMAS Yarra, depot ship Anking, and British minesweeper 51) which was attacked by the Japanese heavy cruisers Atago, Takao, and Maya together with the destroyers Arashi and Howaki and in the ensuing battle, which lasted only 90 minutes, all 4 ships were sunk. Perhaps not surprisingly given that they were vastly outgunned.
There were only 13 survivors from Francol  all of whom became PoW's. Those lost are remembered on the Tower Hill Memorial (see below), the Hong Kong Memorial, and the Plymouth Naval Memorial. What happened to the other POWs is not known. Note this is somewhat confusing since Bromley was assumed to have died at the time of the sinking of the Francol and is therefore counted among those who are so memorialized, whereas in fact he was a POW, and later died as one.  Thus we should say there were 14 survivors, counting Bromley.
Below Bromley's death 'certificate'. Note that he died in Camp No. 3, Sumatra.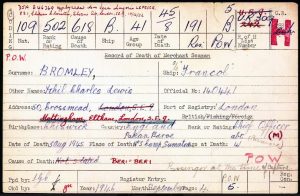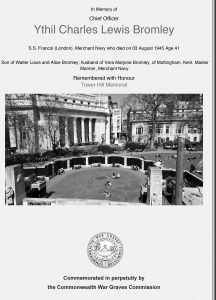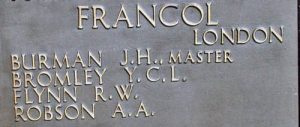 Bromley's grave is to be found at the Dutch cemetery of Leuwigajah near Cimahi which is near Badung south of Jakarta on the island of Java. He is however listed there as NCL Bromley not YCL. This needs to be changed. His name appears on the Tower Hill memorial in London. More details on this can be found here.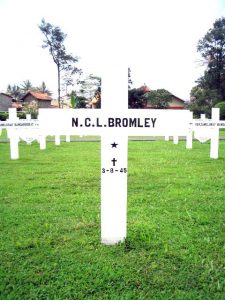 The following images all show official entries in various sources listing his capture and later his decease.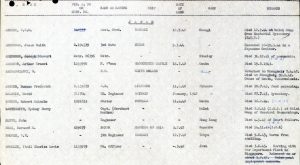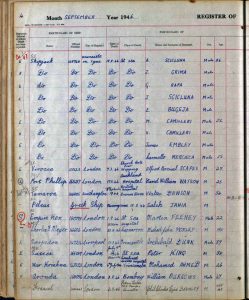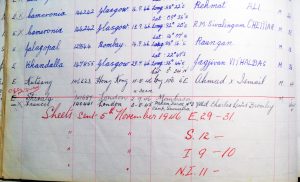 The horrors of life and death at Pekan Baroe have been described by the American George Duffy. He was a US Merchant Navy man and described the high death rate in the Pekan Baroe base hospital:
Below from The Sydney Morning Herald, 14th September, 1945:
DEGRADED TO COOLIES
"We were burying people at the rate of six or seven a day," said Wing-Commander Coffey. "The Japanese refused to allow them decent burial and the bodies were simply wrapped in matting and dumped in the jungle.
"Captain Myosaki, who was commander of all the prison camps in Sumatra, must take responsibility. The Pakan Baroe camp commandant, Lieutenant Doie, was a sadistic brute who told me on more than one occasion,'I do not care whether the prisoners live or die.'
"Hospital accommodation comprised filthy native huts. There were no medical orderlies. Men with dysentery were dying in their own filth. We had one bed pan and two urinals to 150 men, no clothing, no blankets, no mosquito nets, no disinfectants, and no medicines.
"The Australian prisoners were captured in Java and Madang. Grander chaps I have never met. They seemed more susceptible to pellagra than the others, probably because normally they are big meat-eaters. "There was a big death-toll among the Australians. As far as I know 170 are still alive."
"There was a big women's camp near us, with British, Dutch, and Australian civilian women and nurses. There were only one or two Australian nurses, I think. Conditions there were reported to beggar description. Although I never visited it I was told the conditions there were worse than in our camp."
Wing-Commander Coffey added: "They reduced us to the level of the lowest coolies, and did everything possible to degrade us."
Captain Kirkwood, who was medical officer with a large party of British, Dutch, and Australians building roads, told a similar story of brutalities, starvation, and hardships. Men, most of them weak and many ill, who had done no walking for two years, were forced to march 131 kilometres.
On one day they marched 31 kilometres. Many dropped from exhaustion, their feet in a terrible state. They had to carry, in addition to their own gear and cooking utensils, all Japanese kit and tools. They also had to carry their own sick. They did a night march through jungle in pitch dark of 23 kilometres, with men staggering into ditches and swamps. Japanese guards had what they called "medicine sticks," with which they beat the sick to make them march faster.
When they finally reached their destination they found the camp area was a flooded paddy field without buildings of any sort. No men fit to work on the road were allowed to help build huts, which the sick had to improvise from banana leaves, through which water poured when it rained.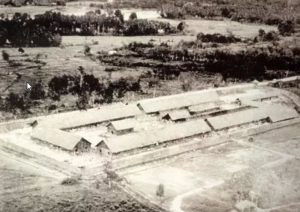 The camp's "consultant medical officer" was a Japanese private who had taken a short course in dentistry. There were a number of Australians in this camp, which was situated north of Pakan Baroe. Captain Kirkwood said the Korean guards used to beat up the patients.
One Melbourne man was beaten to death because he was too sick to get out of bed and bow to the guards. "I saw screaming, slavering Koreans beat up a Royal Navy lieutenant who was in command of the prison camp," said Captain Kirkwood. "Without provocation they beat him across the face with sticks until he fell. He was hauled to his feet and beaten again. It was the most sickening beating-up I have seen, but throughout the naval officer did not utter a word. He stood and took it."
SOME FAMILY BACKGROUND
 Yhtil's birth registration is in the second quarter (April/May/June) 1904.
He has been found on the 1911 census aged six years at No. 70 Cauldwell Hall Road, Ipswich, Suffolk and his birthplace is given as Chiswick in London. He has a twin sister Muriel Hilda Margaret Bromley (also with him on the 1911 census).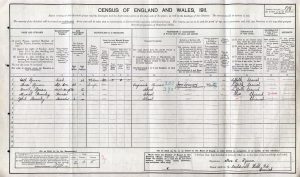 His entry in a Suffolk school in 1909 can be seen below: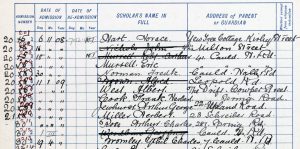 No probate record has yet been found.
His father was Walter Louis Bromley (an artist / designer) born in 1851 in Southampton, Hampshire, the son of Charles Henry Bromley a Surgeon.
Walter had originally married Alice Milden Grant the daughter of Alexander Grant, an Army officer, on 18th April 1873 at St George's, Bloomsbury.

Alice died on 22nd July 1891 at 1 Glentham Road in Barnes, Surrey.

Walter remarried Winifred Alice (unknown last name). We know from the 1901 census (two pages shown below) that she was born in Ipswich Suffolk abt. 1864. A daughter appears on the 1901 census – Winifred A. Bromley.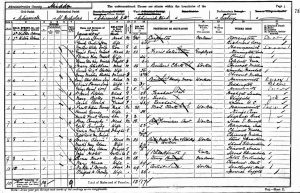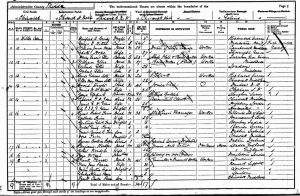 There is a baptismal record for Winifred Amy Bromley born February 3rd 1896, baptised on March 3rd at St. John's, Richmond, Surrey, parents Walter Louis and Winifred Alice of 41 Larkfield. He is a "designer".

Walter died on 6th April 1905 at 68 Speldhurst Road, Acton, London; one year after his son Ythil and daughter Muriel were born. His estate was worth five pounds.

There is a death registration for Walter's wife / Ythil's mother –  Winifred Alice Bromley – for October 1908 at Ipswich, Suffolk. Age at death 45 and so born circa about 1863.  Leaving Ythil an orphan aged 4 years. [So  far no probate record.]
On the 1911 census in the home of Edward John Woods at Merton House, 232 High Street Aldeburgh on Sea, Suffolk, can be found Ythil's elder sister Winifred Amy Bromley aged 15 born at Richmond, Surrey and a Boarder.
The elder sister Winifred Amy Bromley died at Tunbridge Wells on 28th June 1932. She was a spinster and her executor was her sister Muriel.

The entry in the Dictionary of British Art, Victorian Painters, (1995) for Bromley reads:  Bromley (Walter Louis, flourishing 1866-1882) was a London painter of genre and landscape. He exhibited at the RBA in Suffolk Street between 1866 and 1882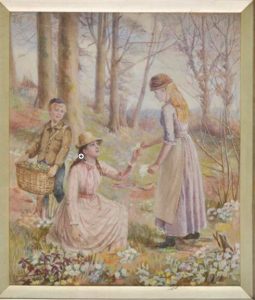 There is mistake on the Tower Hill Monument in London as it gives his mother's name as Alice which was the name of his father's first wife.
Ythil's grandfather's funeral was reported on by a local Southampton newspaper and can be read HERE. His grandfather was Charles Henry Bromley a well-known Southampton surgeon.