The Palembang Women's Vocal Orchestra
The women were dispirited, far from home, hungry and ill. In an attempt to help morale, two English women internees, Norah Chambers and Margaret Dryburgh, both trained in classical music, began to form a camp choir. They were able to transcribe beautiful classical pieces from memory, writing the parts to represent different musical instruments and with sounds to be sung by groups of women. The internees of twenty different nationalities and speaking many different languages learnt to sing this music without words, forming a Vocal Orchestra. The women rehearsed in secret, each small part separately, as gatherings were prohibited.
The first concert was held on 27th December 1943. The audience was invited to attend the event, held outside in the evening and slowly came forward. The women were afraid of the guards but excited at the prospect of something new. They tried to dress in something other than their usual worn and patched clothes. Little girls had a ribbon added to their hair and some women shared a valued and much-used lipstick.
The women gathered to listen and even the guards, usually rude and angry, were silent. The strains of remembered and much-loved music gradually rose above the spellbound internees. It was the first beauty the women had experienced in nearly two years of imprisonment.
They sat motionless beneath the darkening skies, absorbing the wonderful notes. Their thoughts were lifted far above their hunger, their fear and loneliness, the filth and odours as they remembered the peace, order and beauty of their past lives.
All too soon, the music finished but the memory stayed with the women during the months and years to come. Other concerts followed with the same wonderful effect until the choir became too weak and debilitated to continue and death depleted their numbers.
Shelagh Brown, later Mrs Shelagh Lea, recalled that she was helped to endure life in prison camp by three things – her faith in God, watching the sunrise and sunset and singing the transcending music of the choir.
The women in the camp were starved and unwell and far-removed from their normal lives. They were humiliated and ill-treated by their guards; they were made to stand for hours in the hot sun for roll calls, abused and sometimes beaten by their captors. They were afraid for their children and their absent husbands. Despite this, with the uplifting music, the women were able to retain an element of their lives in which they found beauty and escape from hardship.
In the 1985 a women's choral society in California performed some of the songs. This performance can be watched on YouTube. [Lied ter Overling = Song for Survival].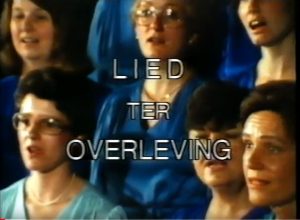 In between concerts, life was still difficult. Always trying to help her fellow internees, missionary Margaret Dryburgh wrote 'The Captives Hymn' which was sung at church services on Sunday:

Father, in captivity,
We would lift our prayers to Thee,
Keep us ever in Thy love,
Grant that daily we may prove
Those who place their trust in Thee
More than conquerors may be.

Give us patience to endure,
Keep our hearts serene and pure,
Grant us courage, charity,
Greater faith, humility,
Readiness to own Thy will,
Be we free or captives still.
For our country we would pray,
In this hour be Thou her stay,
Pride and sinfulness forgive,
Teach her by Thy laws to live,
By Thy grace may all men see
That true greatness comes from Thee. 
For our loved ones we would pray,
Be their guardian night and day,
From all danger keep them free,
Banish all anxiety,
May they trust us to Thy care,
Know that Thou our pains dost share.
 May the day of freedom dawn,
Peace and justice be reborn,
Grant that nations loving Thee
O'er the world may brothers be,
Cleansed by suffering, know rebirth,
See Thy kingdom come on earth.
 To view the article below in more detail, please click on it.