The new Muntok Peace Memorial Museum at Kampong Menjelang, the site of the former Women's prison Camp, is now completed and was opened in September 2015.
The land for this Museum has been donated by the people of Kampong Menjelang and the building work has been undertaken with donations from former internees, their families, Australian Nurses' families, the Malayan Volunteers Group, and BACSA, the British Association for Cemeteries in South Asia.
This small Museum complements the large Timah Tinwinning Museum near the town jail, which tells the history of tin mining on Banka Island and has a gallery, the Vivian Bullwinkel Galleri, dedicated to the war years.
A concert featuring the music of the original Palembang Camp Women's Vocal Orchestra was sponsored by MVG and held in UK in 2013. Funds from this concert have bought equipment for the school at Kampong Menjelang and have also provided a plaque with the names of the people who died in Muntok prison Camps and who are believed to still be buried in the town.
The Muntok Heritage Community has a strong interest in the history of Muntok and the plight of those who suffered in the Camps. They would like visitors to learn that war is harmful and to try to prevent it from happening again.
In 2009, UNESCO visited Muntok, which was assessed as a town of great historical significance. In particular, Muntok was praised as a town where people of many races and religions live in harmony. A Heritage Path indicating significant World War 2 locations will run from the Muntok Harbour to the new Museum and to Radji Beach.
Although Muntok was, for many, 'the end of the road', it is hoped that the road will now lead forward. Kampong Menjelang, in fact, means the 'towards village', an apt name for the constructive changes now occurring. The Singapore evacuees and prisoners and the many who died in the Camps are now remembered. Visitors to Muntok will learn its history and the dangers of war. Strong ties with the local people will help Muntok to no longer be a place of dread for many but instead contribute to a lasting, peaceful legacy.
Judy Balcombe, Melbourne, September  2015
A LIST OF ITEMS IN THE MUSEUM: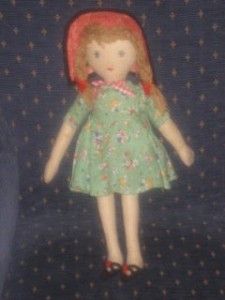 The Doll, made by Mrs. Mary E Brown in the Camp for her first grandchild, Celia. A letter from her daughter Shelagh, written in the camp :- "Should anything happen to me, I hope this will reach you sometime when this ghastly war is over. You will never be able to comprehend how we have been and are suffering – and I don't want to tell you about it in this letter. There has been a terrible death rate and a great deal of sickness and still on the upgrade. Mother died on 17th January 1945 in the Camp Hospital. She had put up such a gallant fight all the difficult years and we were lucky to have each other. She was so looking forward to being at home and having Celia and had made her a Camp doll like the ones she used to sell."