In February 1942 Katharine Isabel (Mosley) Dyne and her son Harry were on board the Mata Hari when they were captured and then interned at Palembang, Muntok, and Belalau.
At the time of her capture Katharine Isabel Dyne was aged 42. Her maternal grandfather was Joseph Manook Anthony (of a well known Singapore-Armenian family. Joseph died aged 70 on 8 December 1917).  Katharine's grandmother was Regina Anthony who had sailed out of Singapore with Katharine's sister Beatrice (Mosley) Teeling.  Katharine and Beatrice's mother was Annie (Anthony) Mosley. Annie had married George Mosley in 1899.
Regina Anthony, aged 85, and her daughter Teeling were on board the Giang Bee. They both survived the bombing and sinking of that ship but they were among  the first to die at Palembang camp in 1942. Beatrice died there on 10 June 1942.  Regina followed her granddaughter, dying on 18 September 1942.
Their daughter Katharine married Henry Richard Lubbock Dyne on 30th April 1939.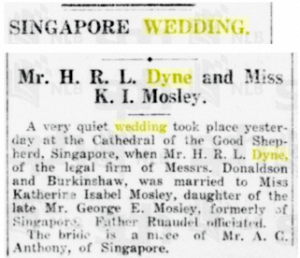 Son Harry was born on 17 October 1932 and was aged nine in February 1942.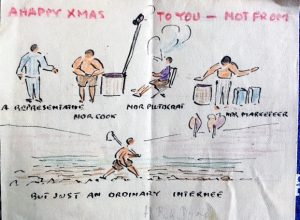 Harry's father, Henry Richard Lubbock Dyne, was born in 1878 and went to Haileybury and Trinity College, Cambridge. He went to Singapore in 1911 and joined the law firm Donaldson and Burkinshaw [see Straits Times article below]. Henry did not board the Mata Hari as he wanted to make sure that the client files at Donaldson and Burkinshaw were kept safe. After the Japanese captured Singapore, he was taken to Changi Prison and remained there for the rest of the war. He was not a young man at the time and the imprisonment took a toll on him as he passed away in 1948 when son Harry was only 15 years of age.
Harry never spoke to his children about his time in the camps at Palembang, Muntok and Belalau.  However, he did tell them that food was scarce and consisted of mouldy maggot infested rice and so the internees would look for chillies growing near the campsite to use to flavour their meagre meals.  Harry, who was very thin, was able to squeeze through the wire fences to collect the chillies. After the war he always ate fresh chillies with his meals.
Harry's father Henry died at Singapore on 5th July 1948. Henry's brother Hugh died on 19th July 1953 at Farnham Common, Buckinghamshire,
Hugh Edward Lubbock Dyne, brother of the above Henry, was born in 1886 at Highgate, London. He was educated at Winchester College & King's College, Cambridge.  He was admitted to the Law Society in April 1911. He was managing clerk with St. Barbe Sladen & Wing, of 7 Queen Anne's Gate, Westminster. At the start of World War One he joined as a Private, 28th Battalion, County of London Regt. (Artists Rifles). He was gazetted 2nd Lieut. 5th Battalion The Queen's (T.F.) Oct. 29, 1915, promoted Lieut. July 1917, attached 1st Batt. The Queen's Nov. 1917. Served at Home Sept. 1914 to Nov. 1917, and in France Nov. 1917 to Jan. 1919. In 1920 he joined Rodyk and Davidsone in Singapore. He was a member of the Royal Singapore Yacht Club. He lived at 'Highgate,' Holland Hill, Singapore.
More details: Katharine Dyne's father GE Mosley died in April 1924 as mentioned in the Straits Times: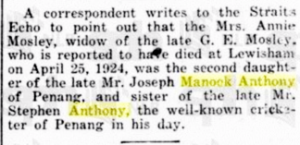 Henry Richard Lubbock Dyne was baptised on 30th June 1878 at St Michael in Highgate, London.  His parents were John Bradley Dyne and Rosemond Alice Dyne. Son Harry was born in Singapore on 17 October 1932.

Below, the Dyne family on the 1911 census (click on image to see details):