Georgette Gabriel Gilmour was French and married to an Australian, G. J. Gilmour, who was a prisoner in Singapore. She was aged 40 in 1942.
Phyllis Briggs' diary records that: " …she started a French conversation class in Palembang …  and …before Christmas 1943 she helped make nursery rhyme rag books with appliquéd pictures all beautifully sewn … She was a sweet thing with plenty of common sense and most capable in every way – and with a sense of humour to go with it!"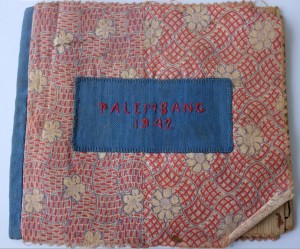 "Mrs. Rover (a German married to a Dutchman who was somewhere in Java) used to get on her nerves and it is no wonder that being French she had no time for a German woman, as when Georgette was a young girl she had been through a very hard time in Lille all through World War 1. Georgette used to get severe attacks of malaria and she generally became delirious and talked all sorts of rubbish – sometimes in English but generally in French or Malay. She must have been very attractive when younger – she had pretty wavy hair and big blue eyes and a slight French accent which was charming. "
"Our greatest find [at Belalau Camp] was a large wooden table which was partly submerged in the river and caught up by a fallen tree trunk so that it was wedged into the bank. Georgette was the pioneer in getting hold of this valuable possession – she waded thigh deep and after much pushing and struggling she freed the table and turned it on its end so that Kong and I could pull it up the bank. The table must have been in the water for months as it was very slippery we stood it against the outside wall by the fireplace."
"At the end she had become very pale and tired looking but always did her best. "
Betty Jeffrey writing in "White Coolies" (p. 106):
"The only French internee with us is Mrs Gilmour. She is in charge of one of the three British cooking squads and produces the most intriguing sambals from cucumber, curry stuffs and oddments. Mrs Gilmour is a very quiet, sweet soul; we all like her very much. She was interned during the last war when she was a child and now the Japanese have caught up with her in this war. What interesting things she has told us from time to time! We have a fellow feeling, she is married to a Digger (Australian soldier). Some of us have brushed up our school French with her; she nearly has fits at our efforts, but it does help to keep our minds ticking over all the time."
Georgette survived internment and was evacuated from Singapore to Australia on Highland Chieftain to NSW. She died on 16.6.1981 [79] at Rowethorpe Bentley, Western Australia.

We have tried to establish the identity of Georgette's husband G. J. Gilmour in order to help us cast more light on her.  We have not managed to do so definitively but we strongly believe that he was an Australian working in the Federated Malay States (FMS) civil services as a senior customs officer, commissioner of excises, and other positions to do with trade. Below are a series of newspaper articles in which G. J. Gilmour is mentioned: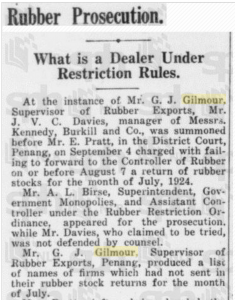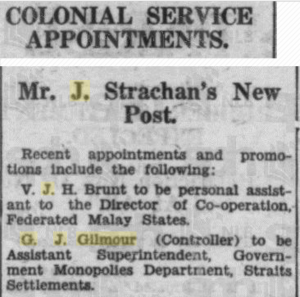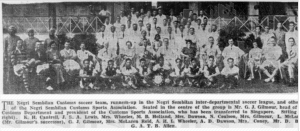 There are files in the Australian National Archives for: 1) Georgette Gabrielle Gilmour and Gordon John GILMOUR 1944 – 45 And 2) Georgette Gabrielle Gilmour, 1959.
Letter from Georgette Gilmour, Perth, dated 12/9/1946 regarding the treatment she received from Dr Annemarie Goldberg-Curth: "Speaking from personal experience you were both attentive and kind to me on the three occasions I was a patient in hospital … "