Phyllis Thane was originally from Sydney NSW and a VAD Nurse. In February 1942 she was on board the Mata Hari with her daughter Pamela. The ship was captured by the Japanese and Phyllis and Pamela along with the other passengers and crew were held at Muntok and then moved to Palembang Women's Camp , Sumatra internees.
Phyllis was the wife of C. P. Thane who was a Changi internee. Son Colin Tarleton in AASC. He was evacuated on Empire Star but badly wounded. Mrs Thane died in captivity 20.4.45 [52] at Belalau. He daughter Pamela, also a VAD nurse, was repatriated from Singapore to Australia on Highland Chieftain. To NSW. She married a merchant navy sea captain 6.46 and settled in Thundersley, Essex till 1990. She now [2007] lives in Mount Pritchard NSW.
Better days, before the war: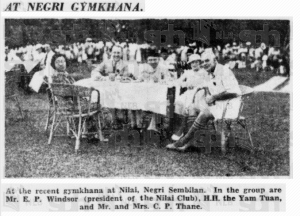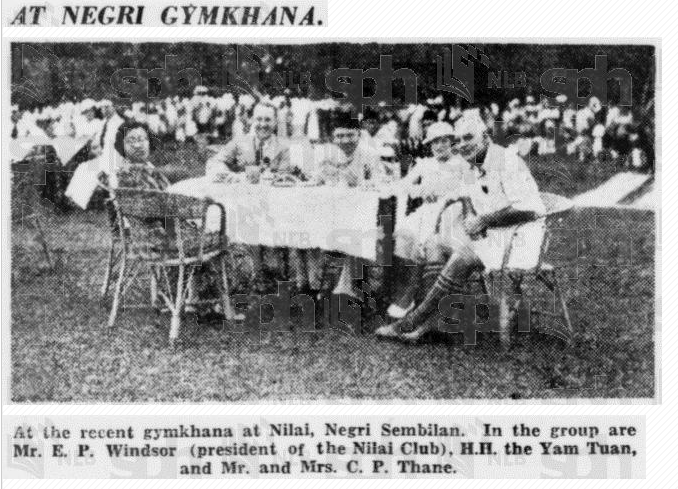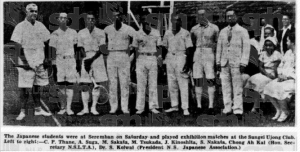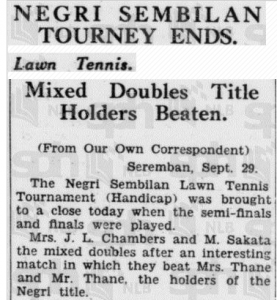 The following recollection by Pamela de Neumann (nee Thane) originally appeared on the BBC's WW2 People's War web page which can be viewed HERE. Pamela recalls:
I was born in Malaya, and left to go to a boarding-school in Sydney, Australia when I was seven. The school was SCEGGS, and when I joined the Headmistress was Miss Wilkinson. When I left School I went back to Malaya with my parents for a holiday. My father was a rubber Plantation Estate Manager in Nilai Seremban, in the state of Negri Sembilan.
Little did I realise what was going to happen to my life when I got back there. My brother was in the Australian Army Service Corps (AASC), and came over from Australia in the 8th Division on the Queen Mary leaving about 12 February 1941.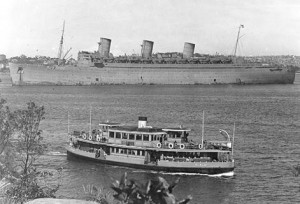 As I was interested in nursing, I started training in the St Johns Ambulance Brigade and earned their Medal which was worn on the lapel of my uniform. They called it the Voluntary Aid Detachment (V.A.D.) then later the Women's Medical Auxiliary Service. This training took place in the Wards and Operating Theatre of Seremban Hospital, with the Matron, Doctor and Sister, and took about three years.
All my hard-earned certificates were lost in the war. Everything was just gone. When the war started with the Japanese we were evacuated to Singapore. I went with my mother, and my father followed later. We continued nursing at the First Aid posts at Singapore. My mother was a trained nurse too, and staff were needed desperately at the St. Andrews Hospital at Singapore. There we nursed wounded members of the armed forces as they came to the hospital from the north of Malaya.
We worked during the fall of Singapore right until the day before the fall, which was on the 15th February 1942. The police and army came and said that we had to leave quickly the best way we could. This turned out to be by the steamship Mata Hari, which left from the jetty at Singapore. Only my mother and I left on this ship as my father was a local volunteer, being too old for the Army and Fighting Services.
We left Singapore at night and a Japanese warship stopped and captured us within a short time of leaving. Under threat of the warship's trained, loaded and readied guns, and dazzled by a searchlight, our Captain, Captain Carson, flew a white flag and indicated there were women and children aboard. The Japanese then took us prisoners-of-war and sent us to the Island of Banka, Muntok then to Palembang in Sumatra; the military were sent to Burma.
We were terribly overcrowded in the camp with no proper facilities for mothers and children. We spent three and half years on these two islands, sleeping on concrete slabs. They transported us on barges between the islands and on cattle trucks to and from the barges. I did nursing as well as I could in the camp, but the Japanese confiscated the medicines from the Red Cross parcels.
It was worse than terrible; they starved us and we had to scrounge what we could from the jungle such as weeds and grass – we also boiled banana skins. All the prisoners eventually contracted beriberi and fever, and many thousands died. I slept on a concrete slab and dug roads, latrines, and graves, for three-and-a-half years, and this is where all my arthritis came from. My periods stopped from the shock and malnutrition, as did the other women's periods and we had to have all our hair cut off because bugs infested us.
My mother, one of the many who I nursed, suffered with dengue fever and beriberi, malnutrition, dysentery and the physical stress which she had to endure, digging roads and sleeping on concrete slabs. It was too much for her and she died in the camp. This need not have happened if we had proper food and medicine. She was only about fifty when she unfortunately died in the May, just before the war finished and I was repatriated. I had to dig her grave in the camp and then bury her: Roman Catholic nurses put her in a box which I had to carry with rod supports and other prisoners-of-war from the camp.
I suffered from excruciating toothache in the camp and so I went into the particular room where we had dental treatment. The Japanese dentist wanted to pull my tooth out without any painkilling drugs and I refused. With my being in great pain I didn't bow to the Japanese dentist and so at the next roll-call (Tenko – which took place both morning and night) they called out the person that didn't bow. The Officer knew that it was me and they took me and stood me at the entrance of the guardhouse. I had to stand there every day for a week as punishment in the blazing hot sun without food or drink. This was just one of the many cruelties that they subjected us to.
When I finally left the internment camp I was extremely ill, with ulcers all over my legs and arms, and had severe malnutrition – weighing approximately 4 1/2 stone (63lbs). When the war ended I was on the first aeroplane out with some of the Australian nurses who had been sent out to Malaya; the aeroplane was a propeller-driven Dakota.
When I arrived back at Singapore I had to go into Hospital for treatment for two weeks to have vitamin injections, etc. Here I met my father again, and learned that he had come through OK even though he had been a prisoner in Changi Jail. It was a great shock to him to learn of the death of my mother.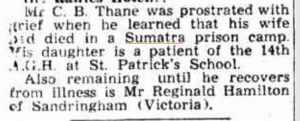 Unfortunately the letters which we wrote to each other did not get through, and I had written of my mother's death, and assumed, when I met him that he knew. This is yet another example of the brutality of the Japanese. As he wasn't in the Army he wasn't sent to Burma to work on the railway.
My father and I decided to go back to Australia, and we left Singapore in September 1945 on a ship called the Highland Chieftain and came back to Sydney. This is where I stayed, but my father went back to Malaya to manage a Rubber Plant Estate. He viewed Estates and lived in Serembang in a bungalow until he died in 1973.
[While at Sydney the Thanes placed the following death notice in the Sydney Morning Herald on 16th October 1945 (p. 12): "Thane, nee Tarleton, April 20, 1945, the death of Phyllis Thane, nee Tarleton, of illness while interned by the Nipponese at Lubok Linggau, Sumatra, the dearly loved wife of C P Thane, Nilai, FMS and beloved mother of Colin and Pamela."]
Sydney is where I met my husband who was a Merchant Navy Captain, and Commodore with Frank Strick and Co., of London, England. In peacetime their ships all went to the Persian Gulf. These ships carried troops during the war, and he came to Australia at the end of the war where he began loading wool for England. I married in Sydney in June 1946 and went back to England on his ship which was part cargo and part passenger – with up to twelve passengers on board.
I lived in Thundersley, Essex, England for thirty-five years. In 1980, with my husband no longer with me, I thought that it would be a good idea to return to Australia with my daughter Estelle Ann. She, and my two sons, were born in England. My brother sponsored us, and we now live at Mount Pritchard. Of my two sons, Phillip is an Architect in London, England and Colin is a Financial Adviser in Dubai in the United Arab Emirates.
My brother, Colin Tarleton, left Singapore on a ship, the Empire Star. Japanese aircraft bombed the ship and she suffered a near miss, and he was badly wounded by shrapnel. The ship went on to Java, where he embarked on a hospital ship for the journey to Ceylon where he was in hospital for six months. He then returned to Australia. He did his schooling at Scotts College in Sydney, and he now lives in Tuncurry, New South Wales.
He was in the Australian Army Service Corps (A.A.S.C.), 8th Division, D Section, No. 1 Company, 22nd Brigade.
The Government is at fault they should have got us out before the Japanese came. The Governor General, during the fall of Singapore, was Sir Shelton Thomas. The book called The Will to Live by Sir John Smyth, V.C. (compiled by Viviane Bullwinkle), was about the camp. Viviane Bullwinkle never mentioned me in the book but I knew her well. As regards compensation, Jim Greenwood of the Ex-Prisoners-of-War Association, Veterans Affairs, even wrote to the Ministry of Defence in Kementah, Kuala Lumpar on my behalf. Because I was a civilian internee, and not in the military, nothing can be done for me, and, whilst the American prisoners-of-war received $22,000, it seems that I shall receive nothing.
We have a meeting in Liverpool Return Soldiers League (R.S.L.) every two months for the Prisoners of War Group. There are approximately nine of us left now, and I am the only woman there. I was born a British Citizen, of parents with British Citizenship, have continued to be a British Citizen, and will remain a British Citizen. Pamela de Neumann 14 July 1991 © Copyright of content contributed to this Archive rests with the author.