This page examines the lives and deaths of two related families – the Paterson and Bedell families. On 12 February 1942, Edith Florence Bedell, her married daughter Jean Paterson, and Jean's son Robert (Bob) were among the evacuees who boarded the Mata Hari as she set sail from Singapore along with a flotilla of other ships for the hoped for safety of Australia.
As with the others on board that ill-fated ship, Edith, Jean, and 2-year-old Bob found themselves prisoners of the Japanese some two days later.
Edith was born on 16th August 1874 Colaba, Bombay, India, the youngest of four children of William Elias Waite and Margaret Collins Waite. Edith was a qualified nurse.
She married Arthur Edwin Bedell in about 1909. They had two children: Patrick and Jean.
Jean Bedell was born in 1911 and had been married to James Campbell Paterson for two years before the invasion of Singapore took place and they had one son Robert. Fortunately Jean had also trained as a nurse as reported by The Straits Times in 1937; skills that would prove useful in captivity: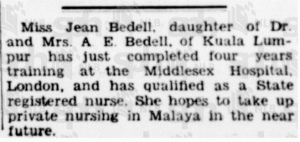 Edith died on 19th January 1945 at Muntok and was buried the same day. The fate of the women's graves was different from those of the men. Initially the women were buried under trees near Kampong Menjelang. They were then moved to the Muntok town cemetery after WW2, and later reburied in 3 communal graves in Muntok Catholic Cemetery in 1981.
Jean (Bedell) Paterson and her son Bob survived their internment and were repatriated to Singapore. One interesting artifact to survive the ordeal was Bob's nursery rhyme book which can be viewed HERE (<– PDF).
Unfortunately, James Campbell Paterson, Jean's husband and Bob's father, did not survive the war. He was killed by allied bombing of Tamarkan camp in Thailand (see below).
About his time in the camp Bob has this to say in an email sent in 2016:
"My mother and I did not spend a lot of time discussing what had happened to us. We both knew it had occurred and did our best to put it behind us and get on with our lives."
"While I cannot condone what the Japanese did, too many of the [Bedell – Paterson] family were involved as a result of their actions; it is worth noting the extent to which the Japanese had brutalised their own troops over a number of years. You don't need a degree in psychology to understand they would pass their treatment on down the line to someone who could not defend themselves against their system. It's not an excuse for them, just a fact of life."
"To get away from all the Japanese being bad, there was a younger doctor in the camps when we were first taken prisoner. He tried his best to help wherever he could. In the end, however, his approach was noted and he was moved on we know not where. There were people like him around, although not many it must be said."
"Certainly many of the guards were unhappy being where they were. As an example, one in particular, would show photos of his family in Japan. During war it is called conscription which is often hard to separate from blackmail. The guard's comments were simply that if he was not in Sumatra his family would have been killed and himself, also, most likely."
"The way the Dutch treated the Indonesians is a debate within itself. Suffice to say that the Indonesians were intent on ridding their land of white people as quickly as they could. Thus, many did collaborate with the Japanese. Again, having said that, there were others who did try to help."
"At the time of liberation, the internees were taken to planes to be flown out of Indonesia to Singapore. The officer in charge of this operation made a final swing around camp to find my mother and I sitting outside our accommodation block. He asked what we were doing. My mother explained that her son i.e. me, was too sick to walk and she was too weak to carry me. He ordered someone to see us to the plane. Had we been left behind we would most probably have fallen victim to the increasingly belligerent nationalism of the Indonesians."
"My treasures were a teddy bear and an enamel pot – yes the type that was put under the bed. With dysentery being an ongoing problem, it was something near and dear to my heart, as well as being useful. Naturally I was clutching it as we got on the plane. About twenty minutes in to the flight came the plaintive wail 'Potty, Mummy.'"
"Cars were an item in Singapore in short supply taken up mainly by the military. From the airport to the hospital we ended up in a car with a British Colonel. A short distance in to the drive all my mother recalls is the plaintive wail "Potty, Mummy.' I know, these days, they have toilets on interstate buses we actually had one in the car."
"It is worth noting, I think, that not all Japanese were intrinsically bad. There was good in many of them. The system failed them by making them suppress it in many ways."
This is an extract from Margie Caldicott's mother's diary regarding Bob Paterson dated 26.11.44:
We left Palembang [for Belalau camp] on 20th October. A dreadful journey in lorry in dark to unknown destination- cramped onto small tub of ship at night. No covering-no room to lie-dreadful for sick- no sanitary arrangements – Robbie's pot handed around. Sail at dawn.
AFTER THE WAR
After returning to Singapore Jean placed a memorial notice in The Straits Times:

Later The Straits Times, on the occasion of the opening of the room in which the Japanese surrender of Singapore took place, Jean was interviewed on what had happened to her and her family:

After the war Jean married Peter George Gilmour in Singapore in May 1951. They had first met in Labuan, where Peter was serving in the Australian Army helping repatriate ex POWs, and where Jean and Bob were as part of the repatriation process.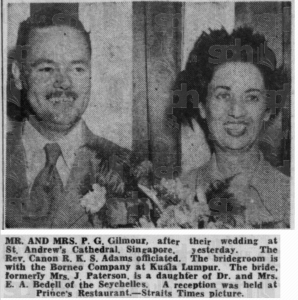 Peter Gilmour worked for the Borneo Co. and soon after his marriage to Jean (Bedell) Paterson he was posted to a position in Ipoh and they lived at Thomson Road. Peter stayed with the Borneo Co to be their manager in Penang and then for Peninsular Malaysia in Kuala Lumpur. He eventually left the company to become the Australian Government Trade Commissioner to the Philippines and Guam. After this he went on to work in Hong Kong before returning to New South Wales where he and Jean eventually retired. Jean died in 2014 aged 103. They are both buried in Perth.
SINGAPORE BEFORE WAR CAME.
Jean Bedell and James Campbell Patterson's engagement was announced in The Straits Times on 15th February 1940:

As already noted, they had one son Robert who was born in July 1940.
James Campbell Paterson (Jimmy) was a car enthusiast who worked for the car importer Wearne Motors of Robertson Road, Kuala Lumpur. He drove an MG sports car which was used to compete in car rallies and Jimmy and his brother in law Pat Bedell may well have been part of a racing team.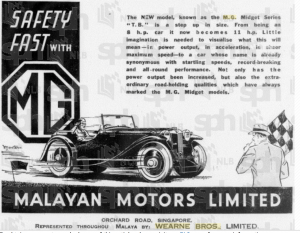 Jean, recalls her husband's enthusiasm for fast driving saying that they used to race the Kuala Lumpur – Singapore train as the road and rail tracks crossed on numerous occasions and the trick was to reach the crossing and get across it just before the train arrived.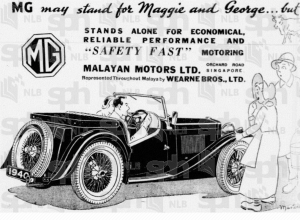 During the First World War Jim had been in the Royal Flying Corps and had flown anti-submarine patrols from the Isle of Wight. Flying was another interest also shared by Jim and his Bedell brother in law. [See UK National Archives WO 339/123463]
Harry Paterson, Jim's father, was born in Scotland. He first worked in the Singapore dockyards and then moved on to be a rubber planter before opening a branch of what would eventually become United Engineers in Ipoh.
Harry married Jessie Allan Lawson, nee Jardine. Jessie Allan Jardine was born on 25th April 1872 at Cambusnethan, Lanark, Scotland, the daughter of William Jardine and Jeanie Mcgill.
Jessie had been previously married, her husband John Lawson dying in an accident in Singapore. They had two daughters. One, Jane Mcgill Fairley Lawson, was born on 28th June 1891. One of the daughters, Jane, died quite young in the UK and the other, Margaret, married an American in the UK and eventually emigrated to the USA with her husband.
Harry and Jessie (Jardine) (Lawson) Paterson had two sons: James Campbell Paterson, born in Singapore, and Duncan King Paterson, born in in Batu Gajah.
Jessie had a sister Margaret Reid Jardine known as 'Aunt Meg' who lived at Troon in Ayrshire.
In 1927 Harry and Jessie Paterson returned to the UK and Harry died on 2nd April 1928. The following notice appeared in The Straits Times on 14th April: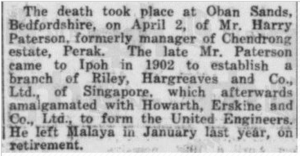 Jessie died on 7th April 1940:

Her probate record for England is below:

Her probate record for Scotland is below:

The Bedell Family
Edwin Augustus Bedell married Angelina Sophia Fanthome. Their eldest child was Arthur Edwin Bedell who married Edith Florence Waite. Arthur and Edith (Waite) Bedell had two children: Patrick Edwin Bedell and Jean Bedell.
Patrick Bedell.
Patrick Bedell was born on 28 April 1910. He married Sheila Turney Edmett on 11 October 1936 at St Mary's church Kuala Lumpur.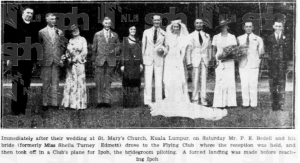 The Straits Times reported on the unusual honeymoon plans on 14 October 1936:
The story made the front page of the Singapore Free Press:
Patrick and Sheila had a son who was born on 1 December 1941. Six days later Patrick was shot down and killed.
Sheila and her son were evacuated to India [how/what ship?] and she ended up working for Field Marshal Sir Claude Auchinleck. While working for him, she met a Lt. Col. Taverner whom she later married.
Sheila had a second son with her second husband and this son now lives in Norway.
PATRICK BEDELL'S ROLE IN THE WAR
Patrick Bedell played a critical role in the first few hours of the Japanese invasion of Malay.
In early December 1941 flights over the South China Sea with long-range Catalina flying boats from the Royal Air Force's No. 205 Squadron had began in search of the Japanese naval convoy that has been spotted heading south through the South China Sea toward northern Malaya.
As a part of this effort an RAF Catalina took off at 6:30pm from Seletar airbase on 6th December under the command of Flight Lieutenant R. A. Atkinson At 2:00 am on 7th December, after not having heard from Atkinson and his crew, a second Catalina, under the command of Flying Officer Patrick Bedell, was sent up to take over patrol.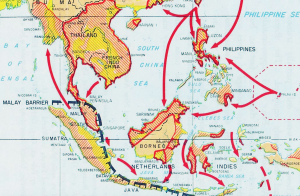 Eventually, Atkinson's Catalina returned reporting that nothing had been found. Meanwhile, Flying Officer Bedell and his crew, simply vanished. Far East Air Command in Singapore had no hard evidence as to what had happened to Bedell's plane, but they had strong suspicions that would have to wait until after the war for confirmation.
From various post war records it is now possible to reconstruct what happened to Bedell and his crew aboard the ill-fated Catalina. On the morning of 7th December Bedell's Catalina had come very close to the Japanese convoy – far too close for the comfort of Japanese Admiral Ozawa.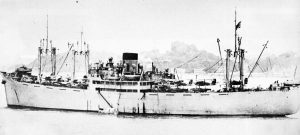 At 8:20 am, when Bedell was 20 miles WNW of Pajang island (south of Phu Quoc on the coast of south Indochina), he was spotted by a floatplane (E13A1 "Jake" coded ZI-26) flown by pilot Ensign Ogata Eiichi from the seaplane tender Kamikawa Maru.
The Japanese pilot maneuvered onto the Catalina's tail and opened fire. Whether the attack caused damage is uncertain, but Bedell turned south away from the convoy and neither pilot pursued the exchange further.
But Flying Officer Bedell was persistent. At around 9:00 am, some 40 minutes later, Bedell and his Catalina came so close to the convoy that they fell afoul of its air cover. A unit of five Nakajima Ki-27 fighters of the Japanese Army Air Service were sent up under the orders of Admiral Ozawa to get rid of Bedell's seaplane.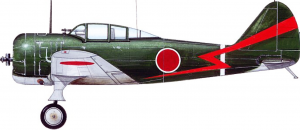 Flight Leader Lieutenant Kubotani Toshiru had his Ki-27's make individual passes at Bedell's plane. The Catalina tried to defend itself, but when the fifth Ki-27 took its shot, the flying boat exploded in midair.  Below, an artist's recreation of the critical moment before Bedell's plane is attacked: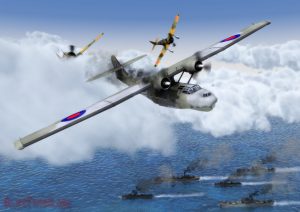 Thus on the day before the attack on Pearl Harbour, Flying Officer Patrick Bedell and his crew gained the unwanted distinction of being the first fatalities in a vast conflagration that was to take millions of lives including Bedell's own mother and his brother in law.
A few hours later at 10:00 a.m., the Japanese invasion convoy split up to reach their prearranged landing positions near Kota Bahru on the Malay coast. The war in the Pacific was just about to begin. Had Patrick managed to radio back to headquarters what he had seen perhaps things may have been different. Probably not much, but a few more days might have saved a few more lives. We'll never know.
Below, the Kranji War memorial in Singapore showing Patrick Bedell listed (red arrow).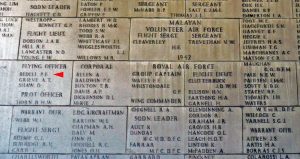 Below, Patrick's probate record: 

The following section consists of earlier Bedell / Paterson family history. It is under construction and needs some more work.
PART TWO
Some Early Bedell Family History
Jean (Bedell) Paterson's father, Arthur Edwin Bedell, was born on 30th June 1883 and baptized on 7th August at Fyzabad, Presidency Bengal, India, the son of Edwin Augustus and Angelina Sophia [Fanthome]. Below, Arthur's baptismal record (second entry):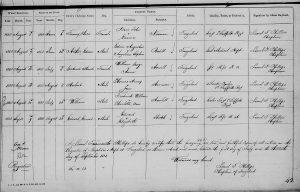 Edwin Augustus Bedell (Apothecary) married Angelina Sophia Fanthome on 10th July 1882 at Shahjahanpur, Bengal, India: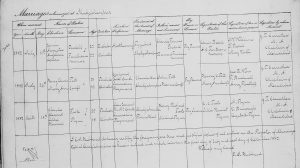 According to family tradition, Sophia was unable to feed Arthur and the only milk available was that from an ass – hence the family joke as to why Arthur had big ears. He was one of 4 brothers who were all doctors. Their only sister was a nurse.
Arthur's father Edwin Arthur was born in 1860 and died on 5 February 1917, aged 57 and was buried on 6 February at Meerut, Presidency of Bengal.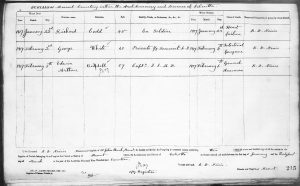 Four pages where the widow Sophia claims her husband's estate, as he died intestate will be placed HERE.
Arthur did his medical training in the UK and arrived back in India to practice medicine and, to everyone's surprise, was accompanied by a wife (Edith Florence Waite) and their two children – Jean and her brother Pat. Pat was the elder by a year. Edith Florence Waite was born on 16th August 1874 in Colaba, Bombay, India and was a nurse.
The Bedell family eventually moved to Phuket in Siam (Thailand). Growing up in India and Siam, Jean had a good knowledge of speaking Hindustani and Thai. In February 1933 the Bedells left Phuket:

And the next move was to Kuala Lumpur where he bought into a practice that was run by Ansley Young and Reed in 1933.

Both Pat and Jean were dispatched to boarding schools in the UK for their education. Jean stayed on there and did her nursing qualification at the Middlesex Hospital. Pat initially went to South Africa but then went on to Malaya. He was mad keen on flying and soon got his licence.
After the war Arthur Bedell re-married in Singapore, to a lady originally from South Africa. Shortly afterwards, they retired to the Seychelles Islands. Unfortunately, someone soon found out that he was a doctor. There being no other medical man on the islands, Arthur found himself working full time again. Eventually he had to give up and he retired to South Africa where he did do some work of his choosing and timing. He died there in circa 1964.
The Waite Family.
The following notes on Florence's Waite family are taken from the Waite Family website:
William Elias Waite was born about 1814 in Cork, Ireland. He married three times:
First, Ann Mien, née Sutherland whom he married on 4 September 1843 in Bombay, India. St. Thomas' Cathedral. Ann Mien (Sutherland) Waite was 22 and already a widow when she married William Elias Waite, a year older than she was, a 23 year old bachelor and army apothecary. Ann's father was William Sutherland. She died less than two years later, a few months after the birth of their first child.
Second, William married Elizabeth Martin, née Tubb on 21 April 1847 in Poona, Bombay, India. [second entry below]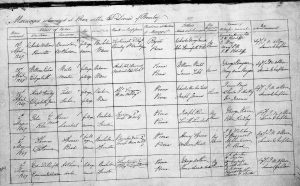 Third, William Elias Waite married Margaret Collins, née McMahon on 25 April 1867 in Byculla, Bombay, India. Christ Church. [Last line entry below]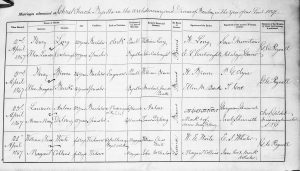 A widow when she married the now twice-widowed apothecary William Elias Waite, they were living at Mayagor at the time. Her father was a certain John McMahon. Her friend Jane Wheeler, one of the witnesses at the marriage, signed with a large X. She died in childbirth at the age of 34 and the funeral service was held at St. Andrews Church, Bombay. However before doing so she managed to deliver the following five children:
Wilfred Elias Waite
Born 16 December 1867 in Dharangaum, Khandesh, India.
Married Annie Rachel Wald 30 April 1896 in Bombay, India. A Registry Office wedding. Annie Rachel signs Waldt.
Died 10 August 1924, aged 56. Buried at sea.
Cecil Sutherland Elias Waite
Born 19 September 1869 in Dhurrungaum, Khandish, Bombay
Married Mary in 1895 in Calcutta, India.
Married May Winifred Cage 02 January 1912 in Madras, India. Engineer
Millicent Malsh Maud Waite
Born 19 December 1870 in Dhurrungaum, Khandeish, India
Married Arthur G. Reel in 1890.
Percy Vernon Waite
Born 25 January 1873 in Colaba, Bombay, India
Baptised June 18th 1873 Colaba.
Edith Florence Waite
Born 16 August 1874 in Colaba, Bombay, India. [Baptism below 3rd Line]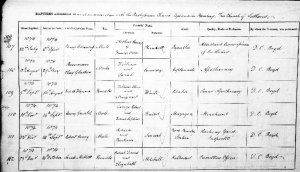 Married Arthur Edwin Bedell about 1909.
Died 19 January 1945 at Muntok
William Elias Waite died on 2 October 1893 in Bombay, India.
William Waite's Career
Honourary Surgeon Major. Buried in the Service Cemetery.
Family tradition has it that he was a doctor from Cork, Ireland. This origin is borne out by Register 13 of the Alphabetical Roll of Pensioners for the Bombay Army dated 31st March 1891 (India Office Military Records L/MIL/12/249), where the Honourary Surgeon is on a pension of 150 rupees a month, having retired on the 1st February 1877 after 43 years servitude in the Medical Dept. A native of Cork, Ireland, he enlisted in 1834 at the age of 20 and arrived in Bombay that year by ship.
The earliest record found in the Bombay Almanac & Directory (BA&D) is for 1841, where he joins the Army List for the first time as Assistant Apothecary & Steward in H.M. 78th Highlanders, stationed at River Euphrates [Iraq], an appointment dated 24th March 1840.
When he married Ann Mien in Bombay in 1843, he was a bachelor, 23 years old (so it says), she already a widow at 22. His profession is given as Apothecary, his residence Bombay and his father a certain William Waite. (Resident at Poona?).
When he married the widow Elizabeth Martin in 1847 at Poona, he gave his profession as Hospital Steward.
As part of the Indian Army Medical Establishment, he appears regularly in the Army List, published in the BA&D. He was stationed with various regiments over the years, as apothecary, with rank of warrant medical officer: H.M. 22nd in 1848, H.M. 8th in 1850, H.M. 10th Hussars in 1955, the 14th Light Dragoons in 1856, 2nd European Regiment of Light Infantry in 1857, back in the 14th Light Dragoons in 1858, listed in the Indian Mutiny Medal Roll for 1857-1859, based in Bombay in 1861 and living in Hornby Row (Mofussil Inhabitants, BA&D).
When he married the widow Margaret (Collins) McMahon (Edith Florence's mother) in 1867, he was Apothecary at the Artillery Hospital, Kirkee (Bombay). He was transferred to the Khandeish Bheel Corps stationed at Dhurungaum later that year and this is where their first son Wilfred Elias Waite was born.
He was finally pensioned off from the Army in 1877, awarded the honorary title of Surgeon Major. He died sixteen years later in Bombay on the 2nd October 1893 and was buried at the services cemetery. His death certificate, other than telling us that the cause of death was Diarrhoea, says he was 79, which would place his birth in 1814.
This burial record is for a William Elias Waite – a son? – a puzzle.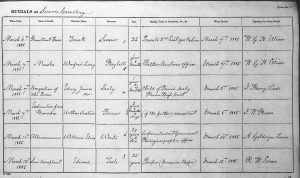 THE ALLIED BOMBING OF TAMARKAN CAMP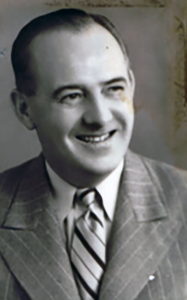 As noted above Jean's husband and Bob's father, Jim Paterson, was killed by allied bombing on the Tamarkan Japanese POW camp. His brother Duncan survived the war but was also captured and was interned in Singapore. He was 2IC the rubber factory [see note at the end of this page].
When war came Jim was a Sergeant in 45 Reserve MT Company FMSVF. He was a POW in Singapore and was then sent to Thailand with D Battalion on 12th October 1942.
Between 27 November and 25 December 1944 there was a series of Allied bombing raids on Tamarkan camp. The first, on 27 November, attacked an anti-aircraft battery protecting two bridges just outside the camp.
The raid took place just as the POWs were lined up for their evening tenko (roll call).
One witness recalled: "We were waiting for the Japs to come and count us, when we heard the sound of planes. All heads turned towards the west, from whence the whirr of engines could be plainly heard. Headed in our direction, and coming out of the setting sun, we counted twenty-one large bombers flying at about five thousand feet. Somebody said, "Its alright, they're Nips." "Like hell they are," cried another, "the Nips haven't any four-engine bombers."
The attack was devastating. Seventeen POWs were killed, including Jim Paterson.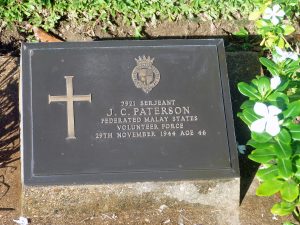 Below, Tamarkan Camp: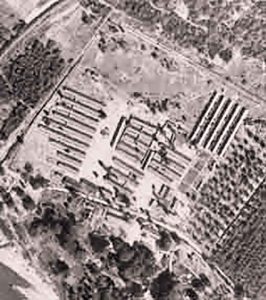 Jim and his brother are mentioned in George Wiseman's diary both before and after the Japanese invasion. George worked for Bousteads.
Saturday 7 Feb 1942
Luckily arrangement had already been made for us to shift to a large tent. I shared it with Jimmy Paterson, Talbot, Ian Jeffries and Lock Marshall, a Yorkshire man, came to say goodbye as he had a job in the special unit. Lock let him have his Tommy gun (we've heard nothing of him since). That evening Paterson got me a lift into Singapore. I left him at Holland Rd then went on to Cluny House … I had a bath and shave and then had to hurry back. A quiet night with no bombs near.
Sunday 8th Feb
Japs made for it, landing near Tengah… We spent the day clearing up the orchard … dug slit trenches, then changed shirt to go off again with Paterson and Talbot and wives, the last time I saw the girls before they left Singapore.
23rd May 1943
I was on a different job today; went with Jim and Duncan Paterson to a quarry near Mandai to collect granite blocks. Ten minutes walk either end, and a pleasant ride to the town. Crossed Orchard Rd, looked much as usual except for the small number of civilian cars. The petrol kiosk at the corner leading to Tanglin Club is out of action, badly bombed. …. Many ruined houses, but the villages such as Bukit Timah and Yew Tek working as usual. Very few of the shops out of action.
A Note on Duncan Paterson, Jim's brother:
Duncan Paterson was in Changi and Sime Road during the war. At liberation he headed to Perth, Western Australia, as soon as he could, to rejoin his family. The family then returned to Malaya, where Duncan continued to work as a rubber planter. With the outbreak of the Emergency, the family left Malaya for good. After a short spell in Australia, Duncan Duncan moved to New Guinea, again, as a planter. He eventually retired to Innisfail, Queensland, Australia, where he and his wife lived out their final years. Their daughter lives in Cairns and their son lives in Innisfail.