Marie (Kobus) Reid was the Dutch wife of J. H. 'Jock' Reid of PWD. She was aged 38 in 1942. She was interned along with her 5 children:
| | | |
| --- | --- | --- |
| Erica Mary Hamilton Reid | 13 ½ years | 26/04/1928 |
| Jane Winifred Young Reid | 12 years | 09/06/1929 |
| James William John Reid | 10 years | 23/10/1930 |
| Dirk Aert Gerard Reid | 8 years | 05/03/1933 |
| Roy Alexander Hamilton Reid | 4 years | 01/12/1938 |
They left Singapore on board the Mata Hari. All six survived the camps at Palembang, Muntok, and Belalau and after liberation they were repatriated on the Antenor from Singapore, arriving Liverpool 27.10.45. To Paisley. Returned to Penang post war.
Marie's mother, Johanna (van Bennekom) Kobus, was with her daughter and grandchildren when they escaped from Singapore. However, she did not survive the ordeal of the camps and died on 18 February 1945 at Muntok. After the war the Dutch government re-interred her body in the cemetery at Leuwigajah, not far from Bandung, just outside the city of Cimahi in Java. Her grave can be seen here.
Initially there was some confusion as to which ship the family had escaped on as it was reported that they were on the Vyner Brook, but that was not the case as the family managed to board the Mata Hari which had an easier time of it, not being bombed and managing to sail into Muntok harbour relatively unscathed.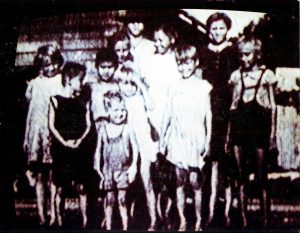 Mr  J H Reid's notification to the Australian government of his family's disappearance after the fall of Singapore can be read HERE.
Below an article that appeared in The Maritime Worker (Melbourne, Vic.) Saturday 22 January 1944, p 8: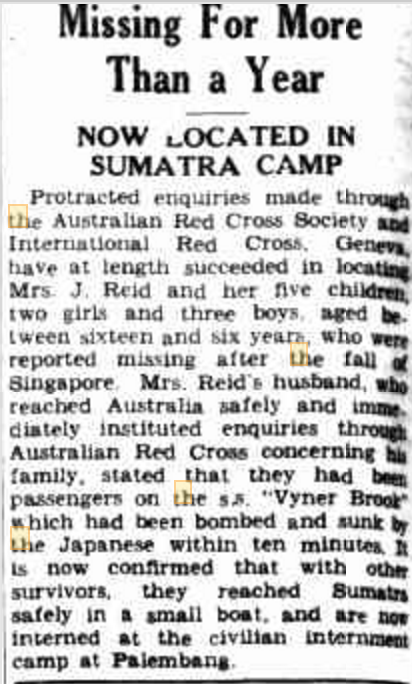 Missing For More Than a Year
NOW LOCATED IN SUMATRA CAMP
Protracted enquiries made through the Australian Red Cross Society and International Red Cross, Geneva have at length succeeded in locating Mrs. J. Reid and her five children, two girls and three boys, aged between sixteen and six years, who were reported missing after the fall of Singapore. Mrs. Reid's husband, who reached Australia safely and immediately instituted enquiries through Australian Red Cross concerning his family, stated that they had been passengers on the SS. "Vyner Brook" [Mata Hai] which had been bombed and sunk by the Japanese within ten minutes. It is now confirmed that with other survivors, they reached Sumatra safely in a small boat, and are now interned at the civilian internment camp at Palembang.
In 1995 the Daily Mail commemorated the 50 years since the liberation of the internment camps in the Far East. Jane (Reid) Elgey's recollections formed a part of the Mail's one page spread on the occasion:


In 2015 Jane (Reid) Elgey was interviewed on BBC TV with Margie Caldicott for VJ Day . The interview can be found HERE:
The following recollections were kindly given to us in 2016 by Jane (Reid) Elgey who was 12 years old when she and her family were interned.
Family Background
My father, James Alexander Hamilton Reid, met my mother Marie Kobus in Java. My father was a Marine engineer in the Hamilton Lines which visited the Dutch East Indies and the surrounding islands including Singapore.
He proposed to my mother but had to get the permission from her father. He would not give it as he was with my grandmother, interned by the British during the Boer War in Transvaal South Africa. My grandparents got married there after my grandmother left Holland to marry Dirk Kobus. So my mother and father eloped to Singapore and got married.
Employment
My father got a job with the P W D in Johore Bahru. My mother through the Sultana, Lady Wilson, was made a sewing, drawing and embroidery instructor of all the Malayan schools from the north to the south of the State of Johore. I remember her going in her Morris Minor car driven by a Tamil driver to all these schools Mersing Kulang Batu Pahat, to name a few of them.
My father, as far as I know, supervised the government buildings especially the entrance to the Istana Besar, the Sultan's Palace. Much to my mother's annoyance, my father spent a lot of evenings playing golf with the Sultan.
Escape from Singapore.
We were one of the last to leave Johore, the Scottish Regiments were right behind us and they blew up the causeway as they left. We stayed with our grandmother for a few days until the Japs were coming into the island. Dad took my grandmother, my mother my sister Erica, brothers James, Dirk and Roy, to the quayside to try and get on board a ship.
As men weren't allowed to leave, we got in a launch and left dad behind on the pier. We went to the Mata Hari but they had no life-jackets and would not take us, so the next stop was the Vyner Brooke. They also could not take us because they were full to the limit. Then we made for the pier and as we did so the Japanese bombers dropped their bombs on the pier.
The Mata Hari signalled that they would take us all. We realised that if Dad was still on the pier, he would not have survived. I remember we children were given sweets and my sweet got stuck on my teeth braces and it took it off. I often wondered how my teeth would end up if I still had the braces on.
Life in the Camps.
We were placed with the Eurasians. The Australians kept to themselves and so did the English and the Dutch. Likewise the Eurasians. There are bound to be rivalries and a few quarrels [We spoke] English [in the camps] but as my mother was mostly with the Dutch Eurasians and spoke with them, we picked up a lot of the language and also we spoke Malay.
We had no education in the camps as such. In the men's camp, the first time that we had lessons by a teacher Miss Morton was disbanded because the shrapnel from the bombardment of the Pladjau oil fields strayed into the camp on to the roof of our makeshift school. So that did not last long. I then joined the Dutch school whose teacher was a Nun. That was also stopped because of illness and the work the Japs made us do, i.e.; carrying water a mile away for the Japanese baths, and we were allowed to keep the last two pails for the camp. We had to dig trenches for the planting of sweet potatoes and then manure the plants which came from our latrine.
The English and the Australians had books which they got from the Dutch houses they occupied previously. And they made cards and even had a majong game.
I have a good visual memory of the layout of the camps. My brother [Dirk] drew the maps and I am impressed how accurate they were that he could remember details where everything was located.
Food and Hunger
We were always hungry as we had very little rice full of weevils, which the Japs, when we complained said that was the meat. The ration came and was dumped on the road and consisted of rotten vegetables. When we got dried beans we soaked them and then pounded them, and with water squeezed them to get milk and the residue mixed with boiled rice made into pasties. Kangkong, was one of the few vegetables we got, which was full of iron. The stalks were also eaten and a few inches of the ends were planted.
Moving from camp to camp
We had to walk most of the changing of the camps. We either walked from one camp to another and twice we went on overcrowded barges from Banka to Palembang and vice versa. Rice was rancid and there were no toilets and often people with dysentery stepping over others to get up the steps to hang out to release themselves did not make it in time.
The first internment was in a Coolie enclosure in Banka then to a school in Palembang for a couple of days, then we were taken to houses with about thirty people in a house, maybe more. We were confined to a certain area and were not allowed to talk to the locals. Next on April fool's day, we were taken to Ireene Laan where we were also in houses but this time we had barbed-wire around the camp.
After that we were taken to the recently vacated men's wooden [atap] camp and then to Banka island to a camp with long wooden barrack buildings surrounded by barbwire. This was the camp where a lot of women died, my grandmother being one of them. In Ireene Laan camp, boys over the age of 12 years were taken to the men's camp and their mothers haven't seen them since then and now the Japs brought them to an enclosure to meet their mothers.
It upset my grandmother when she was not allowed to see him [James Reid]. He had lived with her before the war as he went to St. Andrew's school nearby. Once again we had to leave the island by barges to go back to Palembang and this time we boarded a train, like cattle huddled on the floor. Lorries then took us to a rubber plantation in Loboek Linggau.
The Vocal Orchestra
I remember the times the choir practiced in the kitchen at the time we were in the men's camp [at Palembang] and held a concert in the Pondopo which was in the middle of the camp. This structure was like bandstand. The Japs were invited to hear the choir singing and one of the skits which was in Dutch was about the Japanese they would not be laughing if they understood what it was all about. It was about a gypsy in a café'. I still remember the words of the songs we sang and acted.
We also had a house concert in Irene Laan at house number 2 or 3. The Nuns next door had a sports day arranged for us children with little prizes for winners. Another form of serious entertainment was mostly for the women who believed in the spiritual world. They would call the spirit to find out what was going on in the world. They found out that the Japs had got as far as Darwin in Australia but never set foot on Australian soil.
Illness in the Camps
We were always sick with dysentery, malaria, ulcers which never seemed to heal and which were covered with maggots. I guess that we were lucky to have Australian nurses as well as our own British ones .Like the rest of us they also had fevers and malaria. With no medical pills for the fevers and sores, they did their best for us. My brother was very ill in the barrack men's camp when he heard the choir singing and thought it was the angels singing.
We on the Mata Hari were lucky that we had some clothes we were allowed to take with us when we were captured. The ones whose ships were sunk had only the clothes they had on. In one of the camps at the beginning we were able to buy some cloth which we made into shorts and triangle tops. Later, in one of the camps we were issued with Japanese canvas shoes with a separate part for the big toe I think we had the cloth and shoes in Loboek Linggau camp. We started getting Red Cross, minus the tins etc. which the Japs helped themselves to.
The Japanese Guards
I don't think they liked the Australians. If you did as you were told they left you alone. Their bark was worse than their bite, as the saying goes. We did not have any problems with them. We even had a guard wanting my Girl Guide hat which he gave some beans and bananas in exchange. One of the guards who wasn't liked by the women, gave me a ring. He sat beside me on the bridge side and told me he had a daughter my age and that he misses her. He talked about not wanting to go to war. He then gave me a wedding ring, which he must have been taken from someone. Later on in some camp, my mother traded it for some food from the Chinese. My mother did trade outside the camp at a risk of being caught and punished. With a mother and five children to feed, she risked her life to get us extra food.
Johanna (van Bennekom) Kobus
My grandmother was as old as Winston Churchill. She married her husband by proxy. She was in Holland and he was in South Africa. During the Boer War she spent her married life in the British concentration camp in Transvaal South Africa and ended dying in a Japanese camp. The day she died she was in the camp hospital and she sent word that she wanted to see me. I got to the hospital gate when the German doctor [Goldberg] spotted me. With her hands on her hips, she shouted at me and told me that visiting hours were in the evening. That evening when I went to see her, I found her sitting on the bamboo bed with a pillow on her lap and with her mouth drooping wide open. She had died. I will never forgive that doctor, she must have known my grandmother hadn't long to live. We buried her in Muntok. Her resting place is now in what was Java She got back to the land where she raised her children.
Some Families and Individuals:
I recall Van Geysals who had a baby born in camp, She had three children as well as the newly born, maybe more I can't remember exactly. I met Sister McKenzie in Paisley on my way to school in 1946. I met Zaida Short and Hilda Holderness, and heard that Harry Dyne was in the law business when I went to Singapore to join my husband in 1960's.
After Liberation
We flew to Singapore in a Dakota from Lahat aerodrome. My first trip on a plane – looking and looking through the square porthole, I could see the yellow ribbon of water joining the river Mosie. We arrived at the airport and were taken   to Raffles Hotel. We could not stop sight-seeing and we were stopped by a Chinese yetta yetta man on a bicycle from whom my mother bought linen before the war. He treated us to a meal and cried when he learnt about my grandmother's fate.
We stayed in the hotel till a passage was allocated for us on the M. V. Antenor . We were given winter clothes in Ataaker in the Suez canal. It was mostly army kits that were handed out to us but the shoes I got was of snake skin Wool, knitting needles and underwear winter clothes were supplied by the Red Cross. We were entertained to a cinema show. The title was 'Let the rest of the world go by' I think Doris Day and James Stewart were the actors.
We docked in Liverpool where my father was waiting for us We were a day late because of the weather. No grand reception or brass bands welcomed us. I later found out that the other ships had a grand welcome home. We got to our family home in Paisley, my brother said in an ambulance but I don't remember this. We enrolled in the Paisley Grammar. Because I did not look my age I was put in a class of 11 years old, I was 16 at the time. Dirk was in the class he should have been. James had private tuition from the Rector. Erica did not go back to school. The youngest who never had any schooling went to a local school He was enrolled in Nairmoor boarding school, but he kept running away and following the railway lines managed to get home so it was decided to enroll him in the local school.
Since I left camp I have managed to keep in touch with a few of the internees but there a few of us left here. The ones in Australia and Canada had a better life and weather.
I don't know how the others coped but I know we learnt to survive whatever is thrown to us and thank God we were the survivors.
Johanna (van Bennekom) Kobus's husband had a sister by the name of Clara Henrietta Fredericka Kobus, who was born in 1909 in Sumatra. She married a Lieutenant James M. Burke of the 32nd Field Hospital, Royal Army Medical Corps in 1940 at the Singapore garrison. Her father was Dirk A Kobus but he was deceased at the time of her marriage.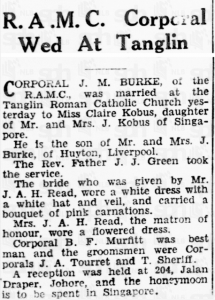 James and Clara (Kobus) Burke had a daughter, Marie Burke, born in Singapore in 1940.  Clara and Marie managed to escape from Singapore abroad the Orion and  arrived in Australia some weeks later. James Burke was captured and put into a Japanese Prisoner of War camp, but survived. The Burke family later returned to England.