This page is "under construction"
The Van Geyzel family was a large family with long ties to Malaya and Singapore. Some of the family managed to escape on the Giang Bee including: Mrs Florence Van Geyzel (the widow of Donald Van Geyzel). She died at Belalau camp on 15 July 1945 (see note below); her son P. V. Van Geyzel; her daughter in law Margaret Olivia and Margaret's children (Florence's grandchildren) -: Maureen aged six years; Jean aged four years; Joyce aged three years and Shirley who was born in the camp at Palembang.
Hubert Alden van Geyzel of Singapore Cold Storage was the husband of Margaret Olivia and hence the father of the four children held captive. Hubert was a prisoner of war in Changi. His sister Dolinda Harriet van Geyzel married Henry James Van Buren.
Mr. P. V. van Geyzel was an engineer, aged 38 years in 1942, and he was a member of the Association of Engineers, Singapore. He was a witness to the document prepared in the internment camps on missing passengers (PCIL).  "Recovered Sumatra 20 Sept 45".
Joan Sinclair in her recollections writes: We had nothing to do all day but sit and talk. It was here in this hall that I met Margaret [Van Geyzel], later to become my best friend. She was a slim slip of a girl. Her husband was somewhere in Malaya and she had three little girls and a baby on the way. My heart went out to her, yet she managed her little brood wonderfully. 
After the war some of those liberated from the camps, such as the Van Geyzel family, were sent to Australia. The grainy photograph below shows Margaret with some of her children arriving in Australia. The original article can be read here.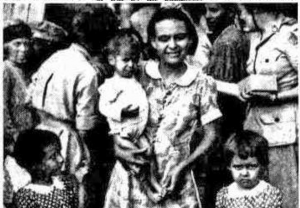 The Van Geyzel family emigrated to Australia in 1957 and consisted of: Hubert and Margaret and their children: Joyce, Shirley, Adeline, Richard, Tony, and Valerie. The family settled in Bayswater, Western Australia. Below: Hubert and Margaret's wedding in Singapore on 12 February 1938.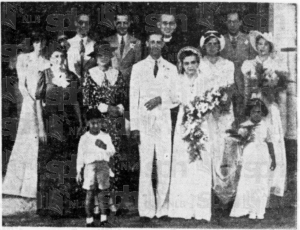 The wedding was reported by the Straits Times: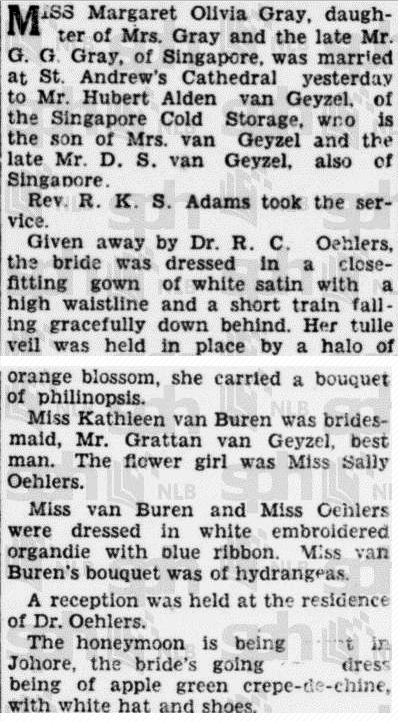 As noted, Florence died on 15 July 1945 at Belalau camp. After the war her body was reinterred at Kalibanteng (shown below). The marker also indicates that Florence's maiden name was Bartholomeusz.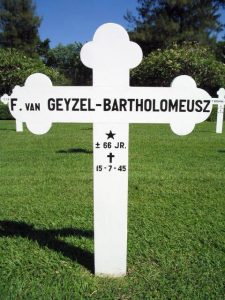 Florence was  born Florence Sophia Bartholomeusz on 29 September 1878 at Colombo, Sri Lanka. Her father was Robert Stephen Bartholomeusz who was born about 1836 at Wolvendaal, Sri Lanka. He was a Post and Telegraph Master. Her mother was Anna Christina Loos who was born before 22 March 1807 at Colombo, Sri Lanka and who died on 22 March 1882.
Florence was the widow of Donald Schumacher van Geyzel whose death was reported by the Straits Times on 20 November 1937.  Donald was born on 22 March 1864 at Colombo, Sri Lanka and died on 18 November 1937 in Singapore, aged 73 years.  He was a Charted Accountant and Chief Clerk in the Charted Bank, Kuala Lumpur.