This page is still under construction …. 
Henry James Van Buren was born on the 27th February 1879, the son of Charles Frederick Van Buren, Proctor, and Georgiana Charlotte Piters. Henry was a house furniture salesman and lived at 5 Market Road, Kuala Lumpur and at 6 Perak Road. At the start of the war he was an ARP firewatcher.
He married Dolinda Harriet van Geyzel on 24th April 1916, at the Methodist Church, Kuala Lumpur. The whole family: Henry, Dolinda, and their daughter Kathleen Charlotte was interned.
Henry died in captivity 23rd March 1945 [66] at Belalau. His body was later reinterred at Pandu te Bandung.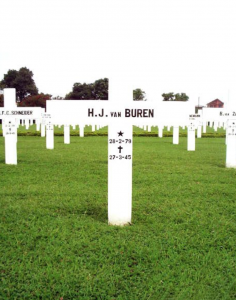 Dolinda and Kathleen survived and were repatriated to the U.K. on the Highland Monarch, arriving at Southampton on 9th November 1945 and then to Portobello, Scotland. However they returned to Singapore as Dolinda died there in January 1946. Kathleen was married on 26th April 1947, at All Saint's Church, Taiping, Malaysia, to Sinclair Lorenz Speldewinde.
[The idea that Dolinda and Kathleen would have returned to the UK and within months gone back to Singapore makes one wonder if the repatriation actually took place. The Van Burens had no connection to Scotland – this has to be examined further].
Much of the above information was obtained from the Journal of the Dutch Burgher Union (JDBU), 1956, Vol. XLIII, p. 76: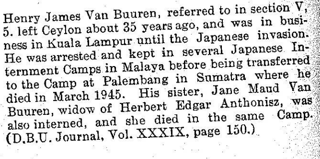 Henry's sister Jane Maud Van Buren was born on 16th November 1869. Jane married Herbert Edgar Anthonisz at All Saints' Church, Galle, Ceylon [Sri Lanka] on 31st January 1873. They had two daughters: Muriel Blanche and Ethel Marriette and a son Roland Clarence. Jane's name has also been found as Jeanie.
Jane was residing with her brother, Henry James Van Buren, in Kuala Lumpur at the time of the Japanese invasion. She was also interned at Palembang and Muntok. Did she die there? According to the D.B.U Journal  (Vol. XXXIX, part 4, p. 150) she did, but no record has been uncovered yet. This is the entry from that journal for Herbert Edgar Anthonisz:

An advertisement placed by Henry James Van Buren in the Straits Times: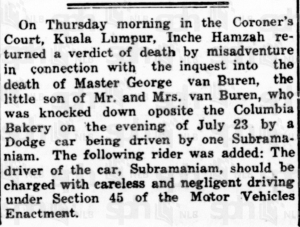 Below the death and funeral notice of Herbert Edgar Anthonisz as reported by The Straits Times 16 and 17 February 1924: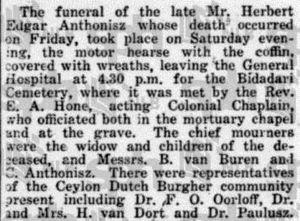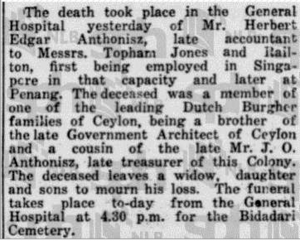 Another Van Buren family, which may be connected to the above family, was also living in Singapore at the time of the Japanese invasion and consisted of the widow of B. C. Van Buren and their daughter M. Van Buren.  Mrs. B. C. Van Buren and daughter M. are listed among those who survived the sinking of the Giang Bee. If so, they must have been been held captive at Palembang and Muntok although they do not appear on any of the camps' lists. This needs to be examined further.
The widow of B. C. Van Buren survived internment and died at home in Bedok in 1946. The fate of the daughter (M.) is not known. Because we only know these Van Burens by their initials (B. C. and M.), tracing them is a challenge.
Another daughter of B. C. Van Buren's – Dorothy Kathleen (born 31 March 1909) – married Alfred Clive Knaggs, as noted by The Straits Times on 21 March 1933 (below).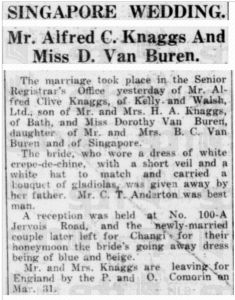 One early record for Alfred Knaggs is from the Bath Chronicle and Weekly Gazette, April 1925, showing him having past the Bath Municipal Technical College Exams: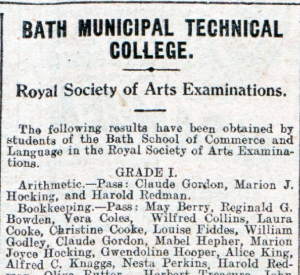 Alfred worked as a Senior Assistant for Kelly and Walsh Ltd., Singapore (STA. 6.6.39).

A son, Harry, was born on 21 January 1934 in Shanghai (STA. 5.2.34)

Following the invasion of singapore by the Japanese, Alfred is listed as among those having drowned following the sinking of the Giang Bee. Michael Plether's 'Giang Bee' list notes that Alfred was a member of the Presbyterian Church Literary Society and had been in Singapore since at least 1928 (STA. 28.8.28). Alfred Knaggs "was witnessed as last seen on the 'Giang Bee' " (NIRC). Below is the death registration record for Alfred Clive Knaggs indicating that he drowned in the Banka Straits on 13 February 1942.

In the 1947 'In Memoriam' column of the Straits Times Alfred is remembered by his parents and sister in England as shown below dated 13.2.47.

Fortunately, Harry's wife and son were evacuated from Singapore and eventually arrived in Liverpool on 18 July 1942 via India and South Africa aboard the Nieuw Holland (below). As far as we can tell that ship was not directly involved in the evacuation of civilians from Singapore but rather was used later on to pick up evacuees along the route from Singapore to England.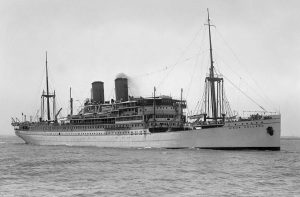 So the Kanggs may have been evacuated aboard one ship, dropped off en route, and were picked up again later by the Nieuw Holland but this is just speculation at this point. Their arrival at Liverpool is shown below: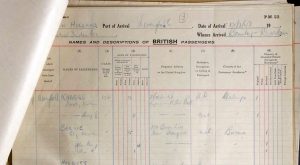 After the war Dorothy and son Harry returned to Singapore and then sailed for Australia as indicated on the following passenger list: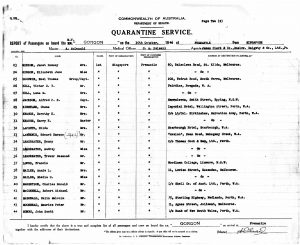 Once in Australia Harry was placed in a boarding school in Perth to receive an education. On 2 December 1961 Harry married in Adelaide a young lady from that city and later at Perth a daughter, Sarah, was born in September 1967.
Meanwhile in the late 1960's/early 70's Harry's mother Dorothy returned to England where she passed away on 29 January 1980 at St Francis Hospital, Colwell Road, Haywards Heath in West Sussex.
Harry returned to Singapore in the early 1960's and was involved in competing in and organizing professional golf competitions as these articles indicate:


In 1976 Harry returned to Western Australia where he later died on 27 August 1981 and was buried in a remote mining town called Kalgoorlie.