Dorothy F. Coates from Adelaide, South Australia. Wife of Claude. She was aged 22 in 1942. On Mata Hari 2.42. Phyllis Briggs's diary notes "…1st December 1944 …Dorothy Coates sat on her mattress which she had just re-stuffed – it squeaked and she found two baby rats in it!…" . Dorothy was repatriated in 1945 on board the Tamaroa, arriving in Sydney on 10.10.45.
The following article from The West Australian appeared on Thursday, 11 October, 1945 and headlined: EX-INTERNEES' STORIES – it mentions Dorothy in the pen-ultimate paragraph.
Gratitude to Local Red Cross.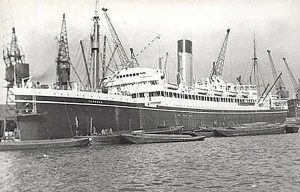 The released civilian internees from Japanese camps who reached Fremantle by the Tamaroa yesterday found the welcome provided by the Red Cross Society almost overwhelming. Many were from Britain. Men and women alike asked: "Please tell everyone that words cannot express our gratitude for all that has been done for us here. We are not Australians; we have no claim on Australia, but for the first time in nearly four years we feel that we are really wanted–and it's a wonderful feeling."
The Red Cross did a praiseworthy job.
Hospital visitors, were among the first aboard with comforts for the returning A.LF.; transport drivers waited to take the troops to dispersal depot or hospital; members of the emergency service companies took charge of the civilians, who included men, women and children of all ages, from a three months-old "rice and bean" baby (so called because of the diet of both mother and child) to boys and girls grown from childhood to adolescence within the confines of the camps.
Most of the women were wearing garments carefully preserved
throughout 3½ years of captivity against this day of freedom. Others laughingly described themselves as "models of what the well-dressed internee should wear"- in blouses tailored from sheets, hair caught up in bandeaux cunningly wrought from bleached flour bags, "windjammer" jackets hand-sewn from the shapeless khaki jerkins which were among the one and only issue of clothing that most of them had received.
New Wardrobe provided.
But the Red Cross society had anticipated their needs. From a store established in one of the wharf sheds they were issued with a new wardrobe. They selected garments of suitable colour and size with the help of both Red Cross personnel and shop assistants whose expert knowledge had been enlisted for the occasion. There were dressing gowns, slippers, underclothing, pyjamas, shirts, skirts, jumper, socks. shoes, sun-glasses, slacks, toilet articles, towels, even cigarettes and toffee for the children. Cups of tea were served when their possessions had been stowed into kit-bags and before they departed shipwards again, wending their way down the, wharf like so-many Father Christmases.
Few of the women would talk of their privations and sufferings. "It's all over now,.they said "and we want to try to forget it." A few told a simple, straightforward tale of life fraught with trials, but all brought to their stories a humour that had carried them through years of suffering.
The women asked many questions. The unexpected interest that they took in trivialities revealed how much they had missed the every day things of life. What sort of hats were being worn? What were the chances of getting a permanent wave? Were all clothes rationed?
Dogs Attract attention
They took a close interest in a pair of horses in a dray, and in a couple of dogs frisking together on the wharf. Dogs, they explained sadly, had come to a sudden end in the camps. They talked about the gay frocking of those who crowded the wharf to meet the ship about the feeling, still a novelty, of being able to walk along without a Japanese barking at their heels. Children, wide-eyed with wonder, were naturally shy and regarded the trains with suspicion.
A glimpse into the daily life in Stanley Camp, Hong Kong, was given by Mrs H. G. Sheldon, wife of the former Chief Magistrate of the settlement, who was also on board. Both insisted that they were "on velvet" compared with people in other camps.
Mrs Sheldon told of finding and cutting their own wood; of cooking on a "chatti" or native stove made of tins; of cooking in tins; of augmenting the daily ration of 12oz of rice, eight tablespoonfuls of soup or water spinach, and an occasional issue of a tablespoonful of tea, a similar amount of sugar and a tiny quantity of oil, with the few vegetables that they were able to grow.
She told how women made clothes out of flour-bags; darned their clothes with unravelled threads when cotton ran out, and how even the backs of labels from tins were used to make school books for the children; how lectures were arranged and plays and ballets produced, and how some of the women organised "clinics" and "diet kitchens" where they tried to prepare better food for children and invalids. Mr Sheldon paid tribute to the women-to their high morale and ingenuity.
"Australia Faced Starvation"
A grimmer picture was painted by young Mrs D. F. Coates, of Adelaide, who, after working with the Air Observer Corps at Kuala Lumpur, was evacuated on the Mata Hari, which was captured by a Japanese destroyer. With others she was taken first to Banka Island and then to Sumatra, where she was interned in the same camp as members of the Australian Army Nursing Service, the story of which has already been told. But despite the hard, manual labour that the women were forced to do and the privations that they suffered — of 230 originally in the camp only 161 survived–Mrs Coats spoke mostly of amusing incidents – of how the camp laughed when the Japanese spread the rumour that Australia faced starvation because the rice crop had failed; how they had made snappy shorts and sun tops out of black-out material issued by the Japanese, and jaunty hats from native mats. She could even laugh about the "nice rice pudding" that she was offered at one of her first meals after her release.
Also from a camp in Sumatra was Mrs Rachael Brooks, of Western Australia, who was met by her very excited son and daughter, grown so tall since she last saw them four years ago that for a moment she did not recognise them. Mrs Brooks was evacuated from Singapore on the Kuala, which was sunk off Sumatra, and after seven hours in the water (in the clothes in which she arrived at Fremantle yesterday) she was rescued by Malay fisher folk, and it was not until about a month later that she was captured by the Japanese. Her story, too, was one of hard work and privation, but thanks to the wonderful work of Dr Margery Lyon, of Northam, who was formerly a Government doctor in Malaya, she said, the health of the camp was remarkably good and out of 2,400 per- sons there were only 160 deaths,
mostly among the aged.
There is a reference to Dorothy's husband Claude Coates in the book: Forgotten Captives in Japanese-occupied Asia: