Mrs Annabelle Bull was aged 36 in 1942. She and her daughter Hazel survived the sinking of the Vyner Brooke and were later interned in Muntok, Palembang, and Belalau. Hazel was aged 6 in 1942.
Her two other children, Molly and Robyn, were separated from their Mother when the Vyner Brooke was bombed and were believed to have been killed. Instead, they were rescued along with a Siamese woman who claimed the children were her own and that her name was 'Mrs Stanton'.  She changed the children's names to Joan and Peter.
Mrs 'Stanton' was probably in fact  'Mrs Pearson – Siamese' who had been on the 'SS Vyner Brooke' and who appears in the handwritten list of those passengers that the survivors believed had died. She had changed the children's names to protect them so would have had good reason to change her own name. All three reached Java and were placed in camps there.
At the Imperial War Museum there is preserved a postcard, shown below, that was sent by Molly to her father who was being held captive at Changi prison in Singapore at the time.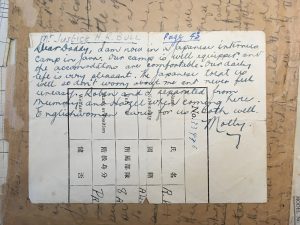 Molly and Robyn were cared for in Camp by Miss Leila Bridgman from the Singapore YWCA who helped arrange for them to be repatriated back to Singapore after the War. Miss Bridgman had been on the Giang Bee. Much later after the war Miss Bridgman wrote an account of what happened to her and the children which can be read HERE.
Soon after the children had been reunited with their parents in Singapore in September 1945, a newspaper correspondent interviewed the children and their mother, Hazel Bull, and wrote the following :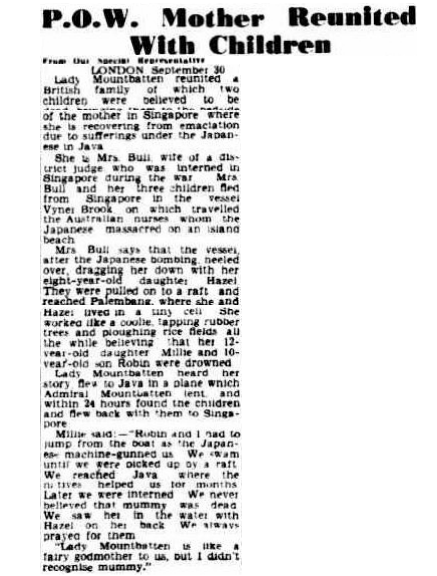 Below from The Sun (Sydney, NSW)  Sunday 7 April 1946
Lady Louis to rescue with children of POW
TWO young English children, separated from, their family after the fall of Singapore, and thought to be drowned, were  reunited with their parents after three and a half years'; through the kindly intervention of Lady Louis Mountbatten.
They were Robin and Molly, children of Judge H. R. Bull, of Singapore.
Miss Leila Bridgeman, New Zealand YWCA official, first contacted the children in a "protection" camp in Batavia, where they arrived in the custody of a Siamese woman after a frightening journey, from Singapore.
Later Miss Bridgeman herself took over the care of the children and, on her return to Singapore after the Japanese surrender went in search of their parents.
She knew their father to be a well-known British judge, who had been interned, and contacted him at the famous "Raffles" hotel, headquarters for ex-POW awaiting repatriation.
"It was the greatest thrill of my life when I found the father, broke the great news to him, and then proceeded with him to tell the heart-broken mother, in hospital, that her children were safe and well and had been with me for three years, said Miss Bridgeman.
"We were then confronted with the problem of getting the children from Batavia to Singapore."
DIRECT APPEAL
"I appealed to the Army authorities, who' had planes flying back and forth from Batavia daily, but without success.
The next day, Sunday, another welfare officer and myself attended a big community church service for ex-POWs. .
"Just before the service began Lady Mountbatten entered.
"There's our chance", said my companion. "She might help."
"Before the church service had finished we had written a letter to Lady Louis, hurried out and given it to her chauffeur.
"Two hours later, Lady Louis called on us at Raffles, heard my story, and offered to collect the children when she flew to Batavia on Red Cross business in her own plane the next day.
"By Tuesday, thanks to this wonderful woman, the children were reunited with their joyful parents."
SEA ESCAPE.
Miss Bridgeman has just come from New Zealand to take up a position, as Director of Training with the national YWCA in Melbourne. In 1941, she was General Secretary of the "Y" in Singapore. Three days after its fall, she escaped with a party of eight on a ship. [the Giang Bee]