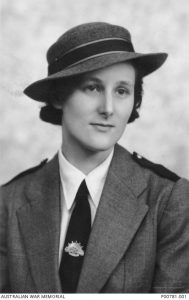 Dora Shirley Gardam was born in 1910 at Ulverstone, Tasmania, the daughter of Richard Alfred and Dora Emermengarde Bickford Gardam of Port Sorell, Tasmania (who died aged 61 years on 21.3.42) and sibling to two sisters and a brother. She was an Australian Army Nursing Sister: TFX 2183, 2/4th Casualty Clearing Station. She was more generally known by her second name Shirley.
The following is based on Michael Pether's 'Vyner Brooke List':
Shirley died at Muntok on 4 April 1945 aged 34. Gardam was described as being 'always frail' and was sick for a long time at Muntok but 'mercifully died quite quickly'.
She trained in Launceston General Hospital, Tasmania with Jessie Simons before they both enlisted in the AANS for Malaya. Interestingly, although apparently Shirley's hospital matron in Tasmania thought she might be 'too nervous' to work in a Casualty Clearing Station with its usually front line proximity, the fact is that Shirley was personally selected with all the nurses of that unit by its commanding officer Colonel Tom Hamilton (On Radji Beach, [ORB] p. 92) and later when the nurses were ready to evacuate he had sufficient confidence in her personally – no doubt after observing her fortitude under the bombing and shell fire they had experienced – to give her a letter he had written to his wife back in Australia (ORB, p.113).
After the SS. Vyner Brooke had sunk Shirley was one of those nurses who managed to reach an overturned lifeboat with Sylvia Muir, Mitz Mittleheuser, Veronica Clancy, Gladys Hughes, Mina Raymont, and Jean Ashton. To their absolute credit this group managed to actually right this large, heavy, capsized craft and some of the nurses gave up various parts of their clothing to plug the holes created by machine gun fire and shrapnel (ORB, p. 175). Later they abandoned the lifeboat which continued to sink and they all congregated around rafts. They were eventually rescued by two RAAF men in a launch and taken to Muntok where they were immediately interned at the Muntok cinema building.
Later in internment it is recorded that young Shirley came to the forefront amongst the nurses with her "… musical talents and sweet disposition …" and she became a feature playing the piano found by the internees and giving lectures on Tasmania (ORB, p. 246). Her life in internment has the tangible legacy in the archives of the AWM (PR 86/129) in the form of a "Hand drawn birthday card and two portions of notes with greetings from Palembang camp".
Like all the internees in the harsh and deprived internment camps of Muntok, Palembang and, Muntok again in 1944, Shirley suffered increasingly from starvation, and a lack of resources for hygiene and disease. For her it seems the return to Muntok was the tipping point in her health and she saw her friends Rene Singleton and Blanche Hempstead succumb to the ravages of beri beri before she too died.
To quote from 'ORB' she was a: " … victim of starvation and neglect as much as the dysentery that eventually took her away. She died swiftly and left behind a host of friends who would always remember a tall fair girl who was loved by all who knew her."
During the three years of imprisonment she received no letters from home because her family was not aware of what had happened to her and did not know that she had been captured and interned. She did not hear that her mother had died in 1942.
"Like Mina Raymont, Shirley had always loved flowers; her coffin was covered in them when it was lowered into the ground in the little jungle clearing …" (ORB, p.269). This explanation of the death and burial of Shirley Gardam, whilst accurate, does not convey the reality of her death – her 'coffin' was merely slats of wood and it took up to 20 starving, sick, skeletal women internees to carry her emaciated frame. She was the last Australian nurse to die on Bangka Island.
On the list of graves that was given to Shelagh Lea after the war by Mrs Hinch, camp commandant, it states that Gardam died at Muntok. Her grave was later moved to the Djakarta War Cemetery DWC-1 Plot 5 Row 6 Grave 5. 

Below: Malaya, 1941. Sisters of the Australian Army Nursing Service (AANS), 2/4th casualty clearing station, 8th division. Left to right: back row: Shirley Gardam, Unknown, E. Mavis Hannah (survived the sinking of the Vyner Brooke and captivity), unknown, Elaine Balfour-Ogilvy (shot on Radji Beach), Wilhelmina Raymont (captured and died at Muntok); front (kneeling): Unknown, Peggy Farmaner.