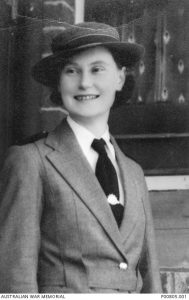 Wilhelmina (Mina) Rosalie Raymont, 2/4th Casualty Clearing Station (2/4th CCS), Australian Army Nursing Service (AANS). She died at Muntok 8 February 1945 aged 33. Her grave was moved to Jakarta war cemetery DWC-1 Plot 5 Row F Grave 5.
The following account is an amalgam of two sources: Sarah Fulford's Training, ethos, camaraderie and endurance of World War Two Australian POW nurses and Michael Pether's 'Vyner Brooke List'
Mina was born in Adelaide, South Australia on 7 December 1911 to William Ernest Raymont (employed in the Locomotive Branch of the south Australian Railways) and Laura Rosalie Raymont, who appear to have been living at Percy Street, Semaphore, Adelaide at the time. The very early years of her life were marked by tragedy with one of her four sisters, Peggy, dying in 1915 and then her father dying aged 41 years in 1916 (he was a Private in the 10th Battalion, Australian Expeditionary Force, and this may have been a result of wounds serving whilst overseas?). Mina also had one brother. Mina passed her Nurses Exams whilst at Adelaide hospital in 1936 ("News", Adelaide, 13.11.36), but was nursing in Hobart, Tasmania when she enlisted.
After the sinking of the 'SS. Vyner Brooke' Mina was one of the nurses who reached an upturned lifeboat with a large group of nurses. She later abandoned this submerged craft for a group of life rafts tied together. They were later picked up by an RAAF launch and taken to Muntok pier where they were imprisoned by the Japanese.
During the next three years of harsh internment and deprivation Mina maintained a positive attitude, organising 'sing-along's' in Palembang camp and joining in the camp concerts and in an impromptu 'fashion show' in the Irenelaan camp she was selected as '1943' wearing a top and shorts.
When she and Wilma Oram were rostered on night shift together they would arrive at the hospital arm in arm and singing. It was the mutual support of the nurses even in the most trying of situations that helped to boost morale and the accounts in the memoirs of her fellow AANSs are evidence of the strong camaraderie amongst the women.
In late 1944 Mina and Valerie Smith were both sentenced to stand in the heat of the day without hats or water as punishment for a misdemeanour.
Nesta James wrote of the incidence that: …. a guard walked into the barracks where the Sisters were living and saw a hole in the wall behind two Sisters. The holes had been there before we even entered the camp. He accused them of making these holes and took them to the guardhouse, kept them standing there questioning them for a very long time, then brought them back into the camp and made them stand in the sun.
The nurses attempted to alert the Japanese to Raymont's heart condition, but they refused to listen and she collapsed and was taken to hospital. Val Smith, who was forced to remain in the heat for the rest of the day, was carried comatose by the nurses into the barracks at sunset and was treated for sunstroke. Bullwinkel and Oram spent time caring for Raymont during their rostered hours and Smith remained at her close friend's bedside as often as she could.
Thereafter Mina apparently struggled with manual labour (On Radji Beach [ORB], p. 260).  Also recorded in ORB, p. 263 is that same year "… an increasingly frail Mina Raymont sewed little handkerchiefs from scraps of material and traded these to Dutch civilians for food …".
Mina was the first of the AANSs to die. She contracted cerebral malaria following continuing attacks of malaria and lapsed into a coma on the 8th February, 1945 and died.
On 8 February 1945 Betty Jeffrey recorded in her diary: "… Our own Ray, Sister Raymont, dies today after 36 hours of being desperately ill. Ray had an attack of malaria, suddenly became unconscious and didn't recover … Val Smith has lost her best friend. Our girls gave Ray a military funeral, all wearing their uniforms …".
Controversially, in depositions made against a camp doctor – Goldberg-Curth – the AANSs alleged in their affidavits that she slapped a sick and dying Sister Raymont.
When Mina died, her friend Val Smith was not in hospital with her and felt she had deserted Mina when she needed her most. She repeated often that she should have been with Raymont and none of the nurses' assurances relieved Val's guilt.
Pages 266-268 in 'ORB' have a very moving description of her funeral. It was not until the release of the AANS nurses that "The Advertiser", Adelaide, was able to report ( 18.10.45) " … Mrs. L. R. Raymont of Parr Street [actually 11 Parr Street] Largs Bay has been advised that her fourth daughter, Lt. Sister Wilhelmina (Willie) Raymont died of illness while a POW on February 8 …".  So died a lovely young woman – a victim of Japanese cruelty, deprivation, and starvation.