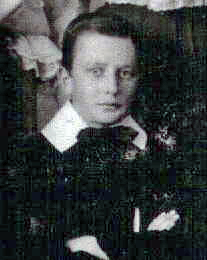 George Sutherland Inglis was born on 10th December 1894, at Lauder, Berwickshire, the son of John and Betsy (Cormack) Inglis.  He died in captivity at Belalau on 13 March 1945.
The following has been transcribed from The Southern Reporter of Selkirk, Selkirkshire, Scotland dated 25 October 1945; the original article is HERE.
After a silence of three and a half years, news has been received of the death in an internment camp in Sumatra of Mr George Sutherland Inglis, the youngest brother of the late Mr. James C. Inglis of Lauder.
A letter received from Mr. [Stewart] Anderson, a native of Edinburgh, who was a member of the Camp Hospital Staff, states that a small Dutch vessel left Java just prior to the fall in an attempt to reach freedom; it was bombed by the Japanese, and the survivors reached the mainland of Sumatra. A small boat was obtained with the intention of sailing to Australia, but after some days at sea, dysentery broke out and it was decided to put back to a small island where all on board were ultimately captured.
Mr Inglis was thrown into prison at Palembang, transferred to Muntok, and finally to Belalau, a rubber estate in the centre of Southern Sumatra, where he died of beriberi and dysentery in April of this year.
IN PRISON CAMP
The Japs refused to allow sufficient medicine and the food during most of the three and a half years consisted chiefly of rice, a few vegetables and tapioca roots, with the result that the health of the internees was extremely low. The British death rate in the camp at Belalau reached the high figure of 56 per cent., which is thought to be the highest among the internment camps in Sumatra. Mr Anderson describes Mr Inglis as a grand fellow and as a patient who was respected by all the staff.  Cheery to the end, he passed away quietly and without pain and was laid to rest in the camp cemetery among the rubber trees of Belalau rubber estate.
Mr Inglis was a native of Lauder and removed to Edinburgh in his early youth. He intended to enter the legal profession, but shortly after the outbreak of war in 1914, he joined the K.O.S.B., serving at the Dardanelles and in France, where he was seriously wounded and finally discharged. Eventually he took up an appointment on a rubber estate in Java, and became manager of a tea plantation in Sumatra. In the early days of the World Wide War he returned to Batavia, and was on the staff of the Malayan Broadcasting Company until the capitulation of Java. Mr Inglis was 49 and a bachelor.
His death is not mentioned by McDougall. After the war, his body was re-interred at Pandu; Grave IV 46.