John Sharpe-Elliot, died on 4th July 1944 at Muntok, Bangka Island. He belonged to the Singapore Public Works Department and was a Naval Base Engineer. Wife Tarra. He was later reinterred at the Commonwealth War Cemetery at Jakarta.
Bas-relief on the façade of King Edward VII College of Medicine Building: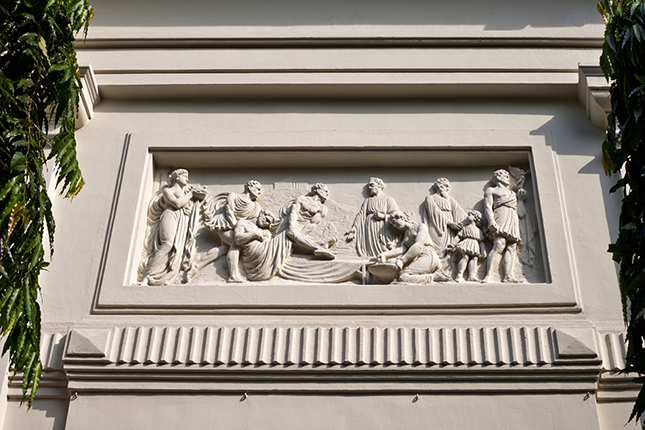 Description: This is a photograph of the bas-relief that depicts the teaching and practice of medicine, at the external wall of King Edward VII College of Medicine Building, on the grounds of the Singapore General Hospital in Outram. It was designed by Italian artist Cavaliere Rudolfo and created by John Sharpe-Elliot. Title devised by Library staff.
The Argus (Melbourne) Thu 2 Apr 1942 Page 6
SINGAPORE WOMEN WORKED TILL END
For almost 6 months before the capitulation, women of Singapore had devoted their time to war work. All pleasure and sport had been forgotten, Mrs John Sharpe Elliot, a niece of the late Sir John Monash, said when she was Interviewed in Melbourne yesterday. Mrs Elliot was one of the last to leave Singapore. Her husband, who was attached to the naval base, is still missing. Mrs Elliot was superintendent of the canteen at Kandang Korbau. A former maternity hospital, which became a casualty depot when hostilities began. Mrs Elliot, who became separated from her husband on the wharf at Keppel harbour, had a strenuous time before eventually arriving in Melbourne, spending hours afloat on a water boat on the harbour while the islands and Singapore were ablaze, and afterward being carried by a minesweeper as far as Batavia, to arrive at last in Bombay, where she was cared for by the evacuation committee.
Below, two notices placed in Singapore newspapers in 1949:
Between 1951 and 1953 Tarra Sharpe-Elliot ran a boarding house at 17 Anguilla Park, Singapore.