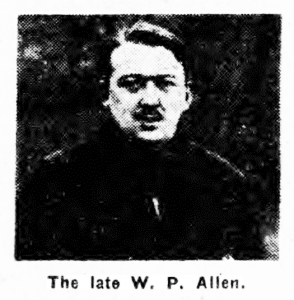 William Probyn Allen, MA, was born in 1911 at Pontardawe, Breconshire. He appears on the 1911 census aged 7 months with father Edmund Bean Allen (aged 34) and his mother Harriet Mathilda Allen (aged 36). His father's occupation is given as 'Assistant to Secretary in Engineering Works'. William was educated at Cambridge University.  He was the Far Eastern Representative for the Boots Pure Drug Company. His wife Kathleen [Kay] was safely evacuated from Singapore. He left Singapore aboard the Giang Bee and survived its shelling and bombing. He was held in Palembang and Muntok and died in captivity on 25th March 1945 at Belalau, Sumatra of blackwater fever.
William was the co-editor of the Palembang 'Camp News'.  He wrote the following lines in a poem addressed to his wife at Christmas 1942.
Last year I hung a stocking, childlike, by your bed
While you were sleeping, but this year my thoughts instead
And prayers and wishes to the stars and round moon spoken,
Are all the gifts that I can send to you for token
Of all the joy these is between us, come what may.
Have faith, my love, although the night is dark, the day
Will break and peace and good will come to men at last.
God bless and keep you always.
Below from Nottingham Journal, 1 January 1944: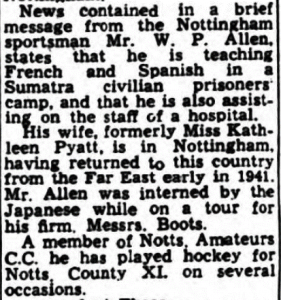 The Nottingham Evening Post, 8 September 1945:
Below is William's probate record:



Gloucester Citizen 11 September 1934: