CARRUTHERS, A. H. [Andrew Henry] Assistant, Bousteads & Co. Ltd / MBC Broadcaster. Left Singapore on the Siang Wo 11.2.42. Palembang, Sumatra internee. Died in captivity 9.1.45 [27] Belalau, Sumatra.
CARRUTHERS, Mrs Emily Marguerita. Wife of Andrew. Left Singapore on the Siang Wo 11.2.42. Aged 29 in 1942. Palembang, Sumatra internee. Repatriated from Singapore on the Cilicia, arriving  Liverpool 27.11.45. To Glasgow. She returned to Singapore and in 1950 married former Changi internee Boris Konstantinoff of United Engineers. He changed his surname to Stanton. They left Singapore early 1950s for Kensington. She died 1989 London.
Below from Wellington College Roll of Honour:
ANDREW HENRY CARRUTHERS, Lynedoch 1931 to 1935, a personality of great charm, belonging to a family well-known in Malaya, displayed his originality and ingenuity while he was at Wellington, where he took over a form spontaneously during an examination when the invigilating master had failed to appear. When he left, he joined Boustead's (East India Merchants) in Malaya and was up country when the war began. He showed his sense of devotion and duty to those he was fond of, sometimes at great sacrifice to himself. Taken on by the British Broadcasting Corporation at Singapore, he was announcing up till the very last moment and on the eve of the fall of Singapore saved his wife from their home, which was being shelled. One of the last six Europeans to stand by at he broadcasting station, Carruthers was evacuated on February 11th, but the ship was bombed and ran aground on Banka Island, where he fell into Japanese hands. He died from cerebral malaria and beri-beri in a civilian internment camp at Palembang (Sumatra) on September 1st, 1945.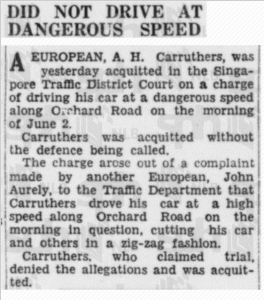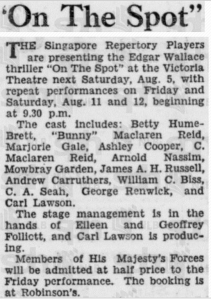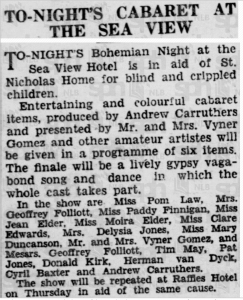 After her return to Singapore Emily had to pay a $10 fine for poor driving:
His probate record has not been found yet. His death notice appeared in a newspaper dated 28 September 1945 showing that he died on 1 September but McDougall in his 'By Eastern Windows' states that Carruthers died on 9 September [p. 321]. 

Below, McDougall's notes on Carruthers whom he first observes at Palembang Jail:
When [Donald] Pratt ran out of jokes his place as master of ceremonies was taken by a young radio announcer from Singapore named Andrew Carruthers, who organized a production team comprising Poker Shark Attenborough, an Australian consular service man named John Quinn and a rotund jokester named Magnay. They staged most of our shows till illness halted them. [By Eastern Windows, pp. 124-125]
[And later at the last camp at Belalau …. ]
Three beri-beri patients were "dancing" in the aisle – strutting grotesquely up and down, performing stiff gyrations on their swollen limbs. Those who could not walk lay in their beds, some laughing, some crying, a few singing.
Andrew Carruthers, 27, radio announcer for the Malayan Broadcasting Corporation who had been a prime organizer of our pre-Muntok shows, was crying. Tears streamed down his beri-beri swollen face. He said he was crying both from happiness and pain.
"Now I will get well," he said. "Soon the Allied soldiers will be here with medicine to save me. They surely will. I'm so happy."
When I first saw Carruthers, standing in line on my first roll call at Palembang Jail, he had been a slender, gracefully formed chap. Now the last roll call had been sounded and, except for his eyes and voice and shining hope he was nearly unrecognizable.
Other men were lying there as badly off as Carruthers, but I remember him best because of his shining hope.
"I'll recover in no time," he said, "as soon as the Allies arrive with vitamin injections."
But one day followed another and no Allies came. We were too far from anywhere.
Carruther's wife came from the women's camp to find her husband. She shuddered, halted and closed her eyes when she came into the thatch-roofed hospital. Quickly, however, she recovered herself and walked down the aisle toward her husband's bed on the other side of the ward. She passed the patients who had both beri-beri and dysentery, each one of them a sodden living stench. Their eyes were slits in swollen, putty-colored faces. Serum oozed through rag bandages, soaked blankets of rice sacking, and dripped through bamboo bed slats to the earthen floor. It was as though their bodies were inexhaustible reservoirs whose contents were being forced by hydraulic pressure through distended skin.
Since February 1942 Mrs. Carruthers had waited for this moment. Through three years and a half she had anticipated their reunion when the war was over. And her husband too. Now it had come and she was walking to meet him, the last man in a row of beri-beri cases.
Attendants had managed to prop him up a little bit, so he was not lying flat. She reached his bed and smiled and kissed him.
"Don't worry, now," he told her. "I'm going to be alright. Vitamin injections are all I need and the Allies will have those when they come."
Four paratroopers, three Dutch and one Chinese, dropped to locate the prison camps, found us on September 6th. They said the hostilities had ceased three weeks before on August 15th. They radioed our location to their headquarters across the Indian Ocean in Colombo, Ceylon.
Planes flew up from the Cocos Islands about eight hundred miles away, in the Indian Ocean, and dropped food and medicine. But it was too late to save six men, including Carruthers. He died September 9th, still bright with hope and with his wife beside him. [By Eastern Windows, p. 321].
At the end of August the internees were free to roam and collect what food they could find including chicken, rice and vegetables but too late to save the six men who died post-war.
---
In the parish of Dalton in Dumfries, Scotland, is the following memorial:
To the memory of Christopher John Carruthers eldest and dearly beloved son of Lt. Col. Francis John Carruthers of Dormont born 23rd Dec 1906, died 17th Jan 1938. Quando ullum inveniemus parem. Also in loving memory of Andrew Henry 6th son of Col. Francis John Carruthers of Dormont who died in a Japanese prison camp 1st Sept 1945 aged 27 years & was buried at Lubut Lengau, Sumatra. The souls of the righteous are in the hand of God. And later interred in Djakarta War Cemetery Indonesia. Also in loving memory of Simon Francis, third son of Col. Francis John Carruthers of Dormont born 25th April 1911, died 3rd March 1984. Also in loving memory of Harriet Anne Carruthers elder daughter of Christopher John Carruthers born 2-11-1935, died 27-10-1989.
—————————————————————————-
MARRIED IN SINGAPORE MRS. EMILY MARGUERITE CARRUTHERS and Mr. Boris Konstantinoff cutting their wedding cake at a reception in Singapore on Saturday. The bridegroom is an engineer with United Engineers, Singapore.