Sir John Bruce Stuart Campbell was born on 3 January 1877 at Poonah, India.  His father was John William Campbell who was born on 3 March 1836 at 25 Rutland Sq, Saint Cuthbert's Parish, Edinburgh, Scotland and who died on 24 January 1915 Patcham Place, Patcham, Sussex, England. His mother was Catherine Lyona Sophia Cavie who was born on 4 July 1849 at Dinan, France and who died on 17 May 1910 at Devon, England. 
He served with Australian Forces in Boer War. Wounded and awarded Queen's Medal with clasps. WW1 CO 11TH Btt Royal Scots. Twice wounded. Awarded Croix de Guerre. 
On 7 July 1902 he married Australian Jessie Nicholson Miller. They had 2 sons and 4 daughters. The surviving son was Bruce Colin Patrick.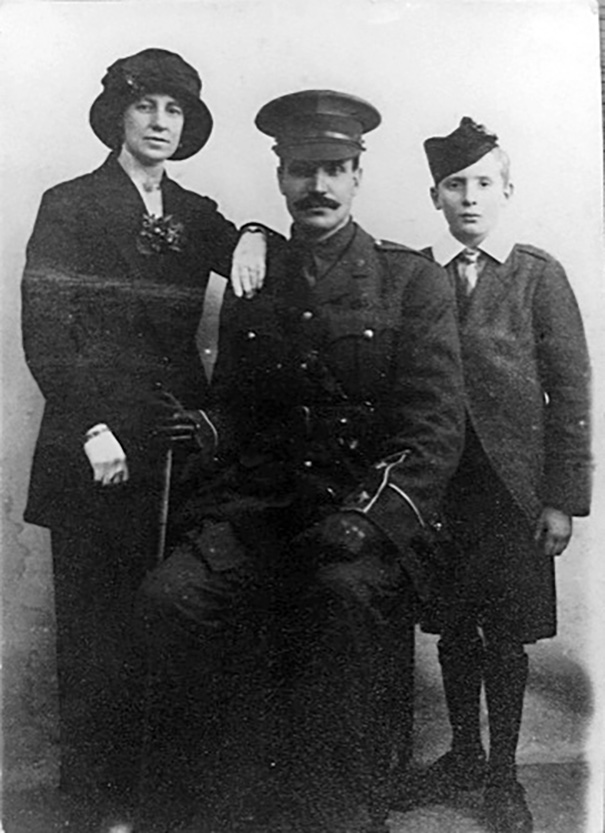 He owned tin mines in Perlis.
Campbell died in captivity 14.10.43 [ aged 67]. He was the first captive to die at Muntok.  Exactly one year later 101 men, British, Australian, & Dutch had died there.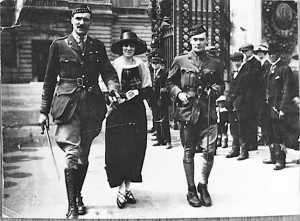 A card sent by Sir John to his family:

THE MYSTERY OF THE DISAPPEARANCE OF SIR JOHN'S SON
The Campbells' eldest surviving son, Bruce Colin Patrick Campbell would have been the next baronet but he disappeared in London in the same year his father died 1943 & was never heard of again. Many searches were made over many years & lots of newspaper articles, but nothing. It is assumed he died in an air raid.

The Advertiser (Adelaide, SA ) Friday 10 May 1946
S.A. Relatives Cast light On Fate Of Missing Baronet
LONDON, May 9.
A world-wide search is being made for a missing British baronet, son of a South Australian,
Lady (Jessie Nicholson) Campbell, formerly of Parkside, Adelaide.
Forty-two-year-old Sir Bruce Colin Patrick Campbell, third baronet, of Ardnamurchan, Argyllshire, has not been heard of since 1943, when be disappeared from his London home where his mother found a note merely stating that he was going away.
Extensive fruitless enquiries have since been made.
The father, Sir John Bruce Stuart Campbell, who fought with the Australian contingent in the South African war and commanded a battalion of Royal Scots in the last war, died as a Japanese prisoner in 1943, but the death was not disclosed until 1944.
Adelaide relatives believed that Sir Bruce Colin Patrick Campbell was blown to pieces by a bomb in a London street during the blitz early in 1943, his uncle, Mr. J. B. Miller, of Percy street, Semaphore, said last night.
Mr. Miller is the brother of Sir Bruce's mother, Lady Campbell, who has been living at Darlington, Western Australia, since she and her daughters escaped from Malaya shortly before the Japanese occupation.
Lady Campbell is the third daughter of the late Mr. John Miller, of Clyde street, Parkside who was Town Clerk of Unley for many years until his death in 1903.
Mr. J. B. Miller, who was Town Clerk of Unley from 1903 to 1937 said last night that as the baronetcy descended only in the male line the title would become extinct if Sir Bruce Campbell were not found.
"When Sir Bruce Campbell disappeared from his London rooms suddenly early in 1943," he said"his belongings, I understand, remained as if he intended to return after only a short absence.
"So we believe that Sir Bruce may have been killed in the street during a raid.
"The late Sir John Campbell was engaged in a pearling venture on the northern coast of Western Australia when he met his wife then Miss Jessie Nicholson Miller of Parkside, Adelaide, who was spending a holiday in Western Australia. They were married in Perth in 1902, and later lived in Great Britain."
Mr. Miller said that the late Sir John Campbell and his two sons-in-law were captured in Malaya after they had helped wreck tin mining gear to prevent it falling into Japanese hands. Sir John was 66 when he died in 1943 while a prisoner of the Japanese.
Sir John Campbell won the DSO and bar and the Croix de Guerre in World War I. He had succeeded in 1915 the first baronet, Maj-Gen. Sir John Campbell.
One of Lady Campbell's brothers, Mr. A. W. Campbell, is on the staff of the "Sydney Morning Herald."
Lady Campbell's other brothers and sisters, who live in Adelaide, are Mrs. Ethel White, of Leah street. Goodwood; Mrs. Hilda James and Mrs. Bain, both of Glenelg; Mrs. Eva Champion, of Burnside; and Mr. Scott Miller.
PERTH, May 9.—Mrs. H. Melville, who lives at Darlington with Lady Jessie Nicholson Campbell of Darlington, said tonight that she knew of no world-wide search. Her brother wrote regularly to them from England until about 1943, when letters ceased. She believes that, like thousands of others, he may have been a war casualty.