Maurice Louis Phillips was born on 26 May 1884 at Dubbo, New South Wales, Australia. He married Ruth Mary Poynder on 19 May 1917.

He was a Planter on Bukit Kuda/Kubu Estate, Seremban. He is listed in The Straits Times as being an 'Assessor' in a murder cases dated 8 September 1921.
He and his wife Ruth appear briefly in The Singapore Free Press and Mercantile Advertiser, on 4 July 1934, page 8: Mr and Mrs ML Phillips of Bukit Kubu Estate, Seremban have taken a flat in South Kensington for a few weeks and will later visit their son John in Eastbourne who is at school there. [Probably Eastbourne College].
Maurice is listed in The Singapore Free Press and Mercantile Advertiser on 26 November 1936 as being among those appointed a Visiting Justice:
In 1941 he went on leave to Australia and before returning to Malaya, for what would be the last time, Maurice was mentioned in a couple of articles in The Hebrew Standard of Australasia. First, on Thursday 3 July 1941, page 8:
YOUNG MEN'S HEBREW ASSOCIATION
Weekly Luncheon.
Guest Speaker at last Thursday's Luncheon was Mr. Maurice Phillips, of Seremban, Federated Malay States, Speaking of Singapore as the most cosmopolitan city in the world. Mr Phillips said that British prestige was never higher than to-day. In addition to being the world's greatest fortresss, it was also Britain's wealthiest dependency, producing 40 per cent, of the world's tin and rubber. With a population of seven million of which 40,000 are white, Malaya was the only existing country without a national debt. The arrival at Singapore of the Australians was an event that roused the greatest enthusiasm. Before this, the products of Australia were by no means popular, but now the caption 'Made in Australia' is the passport to popularity.
Another article in The Hebrew Standard of Australasia where Maurice was mentioned was on 17 July 1941. The 'Y' refers to the Young Men's Hebrew Association based on the YMCA.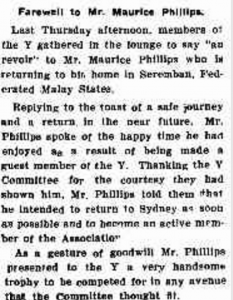 When the Japanese invaded Singapore Maurice was evacuated from there on board the Giang Bee which was bombed and sunk. He was eventually rescued by HMS Tapah.
Phillips was from an old Jewish family as was Gordon Reis who, writing in his diary about events following the sinking of the Giang Bee, notes that:  "On 14.15. Feb (1942). I saved Maurice Phillips' life as he had a brain storm on the [life] boat and tried to walk overboard. I got him when he was just reaching the water and with assistance pulled him back into the lifeboat. He was queer for hours before and after the event".
Maurice was a keen gambler, horse racer and cricket match promoter.
Neal Hobbs who was interned as a young man at Palembang and Muntok recalls Maurice Phillips as follows: The only comment I have to offer concerning anyone else relates to Maurice Phillips. He was a brilliant player at the card game of Bridge, so much so that when on leave from Malaya from his planting job, to Europe mostly, he met up with the best players around at that time and was competent enough to more than hold his own. His reading of the bidding was superb.
He was part of the group which included Hal Hammett that I sat night after night watching and learning the game and, after a period when Maurice thought I had had enough time to participate he and Hal invited me to join the group. I can't remember who I replaced but I was part of the group from then on.
Without searching, I think Maurice got a mention in McDougall's book but not in connection with bridge.
Email from Neal Hobbs to Judy Balcombe dated 3 February 2016. Indeed Phillips was mentioned by McDougall in By Eastern Window as follows:
The Japanese communiqué relating Allied successes touched off a flurry of betting as to when the war would end. An Englishmen [actually Australian] named M. L. Phillips known in Malaya for his stable of racehorses and gambling luck, offered to wager 25,000 Guilders or its equivalent in straits dollars – payable after the war – that we would be free by January 1 1944. He had no takers because no individual would bet that kind of money and Phillips refused to wager against a pool. However his offer engendered such gambling optimism that bettors in the five and ten guilder class raised their antes to fifty and one hundred guilders. Controleur de Raat believed the war would end by November 1, 1944 and bet me fifty guilders to that effect. I picked June 1, 1945 as my date we would not be free until then. A half dozen listeners jumped at the wager and such a heated argument developed over who got first crack at the bet that it ended by no one's taking it. (McDougall p. 170)
McDougall mentions Phillips one last time as follows:  On my last afternoon in camp  I paid a farewell call to the cemetery … There lay … Phillips who had posted the 25,000 guilder wager offer that we would be free by January 1, 1944 (he died July 4, 1945, when freedom was so near).  p. 327.
Maurice died on 5.7.45 [60] at Belalau of beri beri.
His wife Ruth was evacuated to Barnstaple.  She died on 9.3.66 [82] at Instow, North Devon. Son John,
The following notice appeared on The Straits Times on 4 June 1948: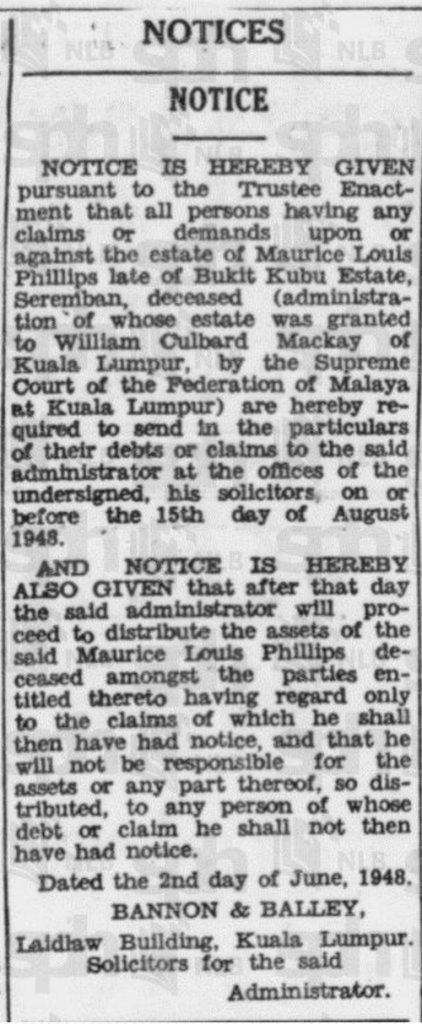 Below from The Argus (Melbourne) on 21 February 1952: