Horace Paul Kendall, JP b.1886 Poole, Dorset. His father was Paul Kendall and his mother Marie. He was christened on 2 January 1887 at Longfleet in Dorset. He left for Malaya in 1911.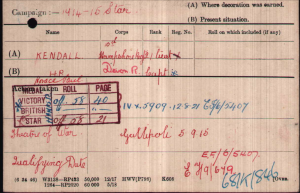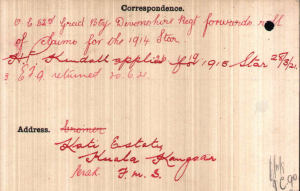 WW1 Service: 10th Btt Hampshire Regiment. Planter Manager, Kati Estate, Kuala Kangsar area. Widower [his wife Anita Elizabeth Hill died 22.8.1939 London].

Horace. was on the Giang Bee [sunk]. Palembang, Sumatra internee. Died in captivity 15.5.45 [59] Belalau. His diary is held by Rhodes' House Library, Oxford University.
Below – copy of a letter Horace wrote:
Civilian Internment Camp
PALEMBANG
Sumatra
March 4th, 1943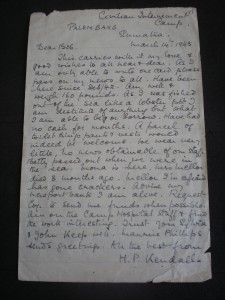 Dear Bob.
This carries with it my love and good wishes to all near and dear. As I anly able to write one card please pass on my news to all. Have been here since Feb/42. Am well & weight 160 pounds. As I was fished out of the sea like a lobster pot I am desitute of anything but what I am able to beg or borrow. Have had no cash for months. A parcel of toilet things pants & vests would be welcome. We wear very little,  no news obtainable from our staff. Betty passed out when we were in the sea. Mona is here, Mrs Mellor died 3 months ago. Mellor I am afraid has gone crackers. Advise my Newport bank I am alive. Rquest Coy. to send me funds when possible. Am on the camp hopsital staff & find the work interesting. Trust you Sylvia & John Keep well. Maurice Phillips sends greetings. All the best from, H.P. Kendall.

Was the following marriage that of a sister of Horace's?